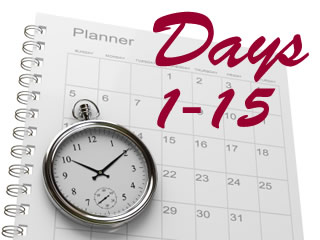 A friend and colleague, who happens to be the new executive director of a nonprofit that's in financial trouble, called me and asked me to help him develop an "emergency" 60 day fundraising plan. The board hired him, in part, because the organization is in trouble and he's going to try to turn things around.
Hopefully you're not in as dire of a position as my friend, but I believe the guidance I gave him will work for you as well to get your year off to a roaring start!
Creating a Fundraising Plan
Over the next several weeks, I'm going to walk you through creating a fundraising plan that will supercharge your fundraising for the upcoming year. Let's take a look at what you should do in the first 15 days.
NOTE: These steps are meant to be "doable" within the context of the work you're already doing. So the steps provided here are NOT meant to REPLACE what you're already doing, but to supplement and enhance it.
Days 1-3: Start With Lists
You'll begin by creating three lists.
1. List your tops.
Make a list of the donors, supporters, sponsors, and funders who've contributed the most to your organization over the last three years. How many people, companies, and foundations are on the list? Ideally, you want to start with a list of about 20-30 names.
2. List your loyals.
Make a list of your organization's most loyal supporters. This would include anyone who has contributed to anything (made a donation, attended an event, come to a dinner, etc.) more than 5 times during the last five years, regardless of the dollar amount.
For additional details regarding #1 and #2 above, read more about using your database to identify your best and most loyal donors.
3. List your board.
Make a list of board members and each member's giving history for the last three years.
When your lists are complete…
Take all three lists and review them with senior staff and critical board members (i.e., the executive committee and the development committee). Find out if your staff and board members know the people on your lists. Discuss who on the lists would make the best donors based on their giving history, involvement and other factors you know about them. Consider things like their job, life situation, home, vacations, kids in college, marriage, etc.
Next, consolidate your lists into a "top prospects" list of 20–30 individuals (or couples).
TIP: If your database is a mess and you can't generate these lists, let me know. There are other options for getting you started. And you'll have to start somewhere else.
Days 4-10: Cultivating Your Donors
Once you have your list of top prospects, cultivate them! That means concentrate on building relationships with your donors. In order to build relationships, you must get to know them (or get to know them better).
It's meeting time!
Throughout days 4-10, spend some time each day to call each person on your list and ask for a meeting. This should not be over a meal. Ideally, you want this meeting to take place at their home or office (or at a coffee shop).
The reason for your meeting is to:
Thank them for their prior giving.
Provide them with a program update.
Ask them why they decided to give in the first place (and why they continue to give).
Ask them what their favorite aspect of the program is.
Ask them what they think needs changing.
Ask them if they would like to get more involved (volunteer).
Ask them if they would like a tour.
Above all else, these meetings provide you with an excellent opportunity to learn about your best donors and better understand his/her interests and what specifically motivates him/her to give.
Days 11-15: Meeting With Your Donors
Days 11–15 should be filled with your first donor meetings and follow up calls to those you haven't yet reached. Be sure to write down any valuable feedback and insights they share after the meeting or during the phone call leading up to the meeting.
By day 15, you should know who all of your biggest and most loyal donors are. You should also have made contact with each and every one of them and scheduled meetings with as many as possible. In the next post in this series, I'll go into more detail about engaging your donors during these meetings.
As I help my friend create his 60 day fundraising plan, building relationships with his organization's best donors will be a key component. In parts II and III of the plan, we'll look at grant writing and fundraising events, as well as how to prepare to ask these donors for gifts. But the crucial first step is to identify and reach out to your best donors first.
---
This series provides the nuts and bolts of creating your fundraising plan, but there's a lot more on the subject that you'll find in my book, 50 Asks in 50 Weeks: A Guide to Better Fundraising for Your Small Development Shop.