And Get Two FREE Fundraising eBooks!
Use the form below to subscribe to fundraising expert Amy Eisenstein's email list. You'll receive an actionable email each week to help you improve your fundraising.
(You may unsubscribe anytime)
Once you confirm your email address, you'll receive an email with links to BOTH of the eBooks described below.
---
6 Essential Secrets for Board Retreats That Work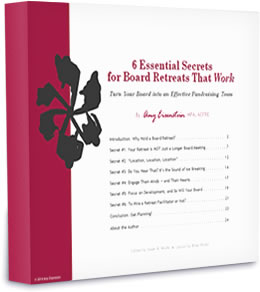 Turn Your Board into an Effective Fundraising Team
A FREE eBook for anyone who want to enjoy super-successful board retreats time and again.
Choose the perfect location for your retreat.
Transform your board into incredible fundraisers.
Engage the hearts and minds of board members.
---
Simple Things You're NOT Doing to Raise More Money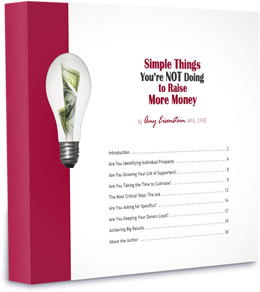 4 Simple Secrets of Big-Bucks Fundraising
A FREE eBook that covers four simple things you can do TODAY to start raising more money.
Learn the simple secrets of big-bucks fundraising.
Identify the best people to ask for donations.
Discover when, where, how and who to ask.