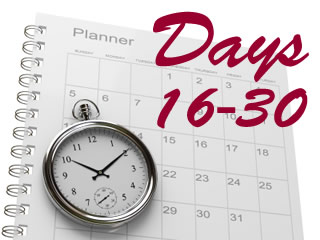 Missed days 1 through 15?
Check it out here: Creating a 60 Day Fundraising Plan: Days 1-15
Creating a Fundraising Plan: Days 1-15 (Recap)
By now you should have identified your best donors, including your largest and your most loyal donors. Using those lists, your next step was to create a combined list of your top prospective donors (approximately 20–30 total names) and call all of them to schedule meetings. Meetings are a crucial step in the cultivation process, helping you build lasting relationships with your donors.
For more on cultivating your best donors, read about how to cultivate prospects and build lasting relationships.
For the next 15 days of your 60 day fundraising plan, I want you to focus on meeting with your donors and improving your fundraising infrastructure.
Days 16-20: Engaging With Your Donors Face-to-Face
Being prepared before each donor meeting or encounter will only make your fundraising efforts more successful. As you continue meeting with donors face-to-face through day 20 of your plan, here are three helpful tips to be best prepared to engage your donors.
Make a list of things for which you need support. For example:
• $50,000 for program director
• $30,000 for new van
• $10,000 for 3 new computers
• $5,000 for snacks and art supplies for kids
Create specific sponsorship opportunities. For example:
• $10,000 enables one class of 15 kids to attend program for 1 year.
• $5,000 feeds 5 families for one year
List volunteer opportunities and other ways for supporters to get involved.
• One-time opportunities (speaking engagements, painting/ cleaning, etc.)
• Office work (ongoing or periodic)
• Direct service (ongoing)
• Committee or board service
Days 21-25: Shoring Up Your Infrastructure
It's important to have a solid infrastructure in place to make the most of your fundraising efforts. During days 21-25, ask yourself the following questions to begin improving your infrastructure.
Do you have a database to keep track of donors and supporters?
Ideally, you want to keep track of their contact info and giving history (phone, email, address, giving history, etc.).
Do you have the capacity to accept donations (credit cards) online via your website?
Effective fundraising in the 21st Century includes the ability to accept credit cards online. There are plenty of companies available to help you with this. Ask colleagues or visit similar organization's websites for examples and to see what they're doing.
Is your website "donor-focused"?
This means that the content is generated with a donor in mind. For example, does your site clearly explain what you do and why your organization is important? Is it easy to donate, volunteer, or contact your staff members?
Do you have a system for sending thank you letters? Do you get acknowledgements out within a week? Are any personalized?
One of the top reasons that donors give for not making a second gift (or donation) to an organization is that they weren't thanked or told how their money was spent. It's important to keep the donors you have and the best way to do this is to have a professional and personal thank you process in place.
Days 26-30: Getting the Most from Your Board
Your board is a significant part of your fundraising success. Before they can help with fundraising, they must give generously themselves. For days 26-30, spend some time focusing on getting the most out of your board.
Do you have 100% board participation? Are they giving at capacity? Can you ask them for significantly increased gifts this year?
Each board members should make a significant personal donation to your organization. What "significant" means will be different for each board member, but they should make a large and meaningful gift for their own personal budget.
Are you growing your board?
Think about how to grow your board and who you need and would like to have on your board. Consider adding three new board members this year who bring new skills, contacts, and talents to your board. Check out these 8 Simple Steps to Recruit and Retain Great Board Members.
Do board members work for companies with corporate match? Are they submitting the form?
If your donors (board and non-board members) have access to corporate match money for their donations, you are literally leaving money on the table by not asking them for their match form.
Have board members looked into getting a gift or grant from their company?
Many companies have corporate giving programs, which give priority to organizations where their employees volunteer. Ask board members to research possible grants or gifts from their companies.
For more information on how your board members can help with fundraising, check out my post on how to turn your volunteers into fundraisers.
Getting your fundraising off on a strong start takes planning. Once you have some of infrastructure, fundamentals and core materials in place, you'll be ready to raise big bucks for your organization.
---
This series provides the nuts and bolts of creating your fundraising plan, but there's a lot more on the subject that you'll find in my book, 50 Asks in 50 Weeks: A Guide to Better Fundraising for Your Small Development Shop.