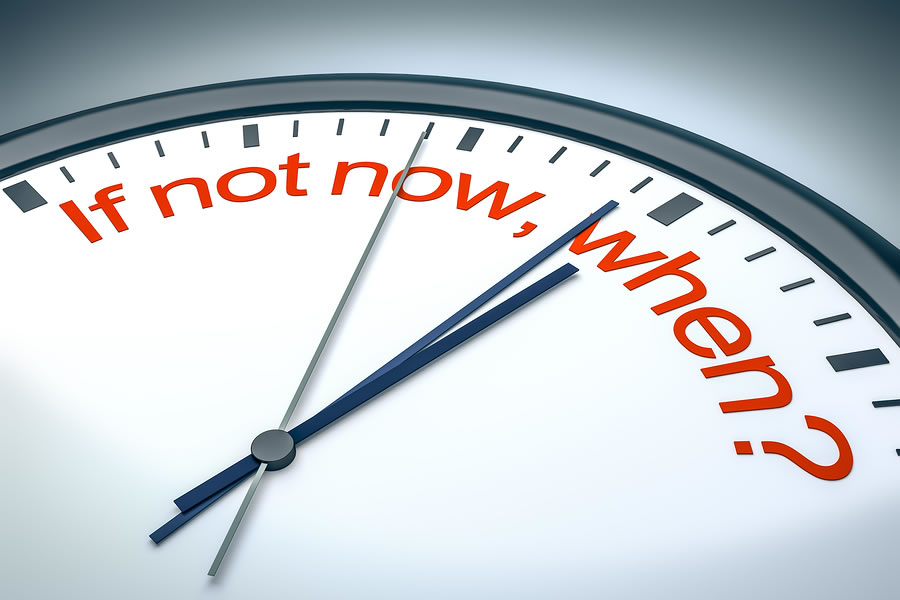 Do you ever feel stuck in cultivation? Like you're simply not sure it's the right time to ask? How can you know when the donor is ready?
Figuring out when it's the right time to ask can be one of the most difficult challenges for fundraisers to overcome.
Yesterday, I had the opportunity to coach a group of consultants. Someone posed the following question to me, which sparked today's post.
"Our smaller clients usually don't feel they have the luxury of spending years in a cultivation process. How does one decide whether to seek a relatively small starter gift or move to a major ask?"

Here's what came to mind:
"Years in cultivation? Ack! No way. What do you think this is, their 'ultimate' gift? A mega campaign?"
(Fortunately, I didn't actually say any of that… I just wanted you to know what was running through my mind.)
So When is it Time to Ask for a Gift?
Use these four guidelines as a blueprint for when it's an ideal time to ask for a gift.
1. 12 Months Max.
If you're raising major gifts for your annual fund (as opposed to a capital campaign), there's no reason to spend more than 12 months in cultivation. You need to get a gift by year-end.
If this is the first time this donor is making a major gift to your organization, they're not going to make a "mega" or "ultimate" gift, so just ask for what makes sense at the point you're ready to ask (which leads us to…).
2. You're never going to feel ready to ask.
The reason many fundraisers (both professional and volunteer fundraisers) spend "years" in cultivation is that they don't "feel" ready to ask. You could always do more cultivation and research, but you're just delaying the ask.
What's the worst that could happen? They could say "no." (And getting a "no" isn't as bad as you think…)
As long as you're polite and respectful, asking "too soon" shouldn't have any long term repercussions. And it might get you a gift earlier than expected.
3. Keep the third gift in mind.
Remember, a first gift is rarely (almost never) the largest gift a person will make to your organization (unless you really screw up stewardship, but that's another subject for another time).
You should be asking for the first major gift from a prospective donor with the third, fourth, and even fifth gifts in mind.
In other words, don't try to get the biggest gift you think they can or will ever make. Ask for a significantly bigger gift than they've been giving and dip your toes (yours and theirs) into the major gifts pool.
4. Ask your donor good questions.
Before you ask for a gift, be sure to ask your prospective donor some good open-ended questions throughout the cultivation process. Think of these questions as a checklist, and check them off as you go.
How did they get involved with your organization in the first place?
Why did they decide to keep giving?
Why is your mission or organization important to them?
What do they love most and like least about your organization?
What would they like to see grow, improved or changed?
Once you've asked the prospective donor all of these questions, you're probably ready to ask for a gift.
It's Time to Ask!
I hope you plan to make this year the year you start to really raise major gifts in a big way! Don't let your cultivation take more than 12 months. It's time ask!
For more advice on asking for major gifts (who, what, when, where, and why), see my complete online guide: Major Gift Fundraising – Everything You Need to Know.
What other obstacles have you faced when asking your donors for gifts? Let me know in the comments.