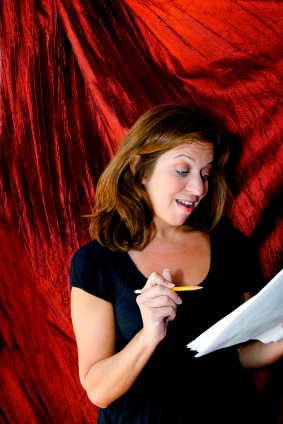 One of my more popular speaking topics is about overcoming the "fear of asking" or learning how to ask for gifts in more effective, efficient ways.
If you want to improve your success rate and/or comfort level with asking individuals for contributions to your organization, you need to practice.
The subject of money is taboo in our culture, so no wonder it's difficult for most people to have conversations about money, which is what fundraising is all about. If you're too uncomfortable to have a conversation about money, then you can't effectively fundraise.
While it may seem silly or unnatural, one of the best ways to improve your success rate is to rehearse (i.e., practice) before you ask.
Most people wouldn't dream of going on stage or making a big presentation or business deal without practicing first, so why is this any different?
Practice Asking for Donations Together
If you will be going on an 'ask meeting' with someone else, you should practice together. Each person should have a specific role for the meeting. If you are going with a board member, you'll want to plan out in advance. Figure out who will initiate each of the following points:
Open the meeting with small talk. Make it personal and relevant when possible.
Thank the prospective donor for their past giving and remind them how their previous donations have been used. (I say "remind them" because they should have already been told how their prior donation was used during the cultivation stage.)
Make the ask (see the next section for tips).
Thank them and arrange for follow up.
Practice the above points together as a team. Feel free to include a third person to act as the donor in your rehearsal session.
Practice Asking for Donations Alone
If you are going to the meeting alone, then you should practice in front of the mirror or with a partner in your office.
Be specific! Rehearse asking for a set amount and a specific thing.
One of the worst ways (biggest mistakes) to ask for donations is not being specific enough. You want to ask for a certain amount. Otherwise, the donor won't know what you want.
For example, if you simply ask for a "donation", you may get $100 or $10. The donor leaves the meeting confused and unsure of what to give. When you don't ask for a certain amount, in writing any sized check, the donor believes they did what you asked, and you are invariably disappointed.
In addition, you will want to ask for certain "things" like computers, after school snacks, or even program staff salaries. The "thing" you ask for can be "unrestricted operating funds," but you will want to specifically say that you are asking for operating dollars, and explain what it means and why it's important to your organization.
After the Ask, Be Quiet!
In the potentially awkward silence after making an ask, practice being quiet.
You've asked, and now it's their turn to talk. They may need a moment to collect their thoughts and think about what you've asked them for, so let them.
If you talk first, you lose. Once you've asked for a gift, and then feel the need to talk first to break the silence, you will invariably backpedal. If you talk first, you may say something counterproductive like, "I know that's a lot of money — how about $500 instead?" when you've just asked for $1,000.
Be Prepared for Any Response
There are three answers a person can give once asked for a donation: yes, no, and maybe. Practice how to respond to any of these and have a follow-up plan for each.
Worried if they say "no"?
Don't be. See my post: Asking for Donations: When Does "No" Mean "No"?
---
Have you ever rehearsed before asking for donations? Did it help? I'd love to hear about it in the comments.