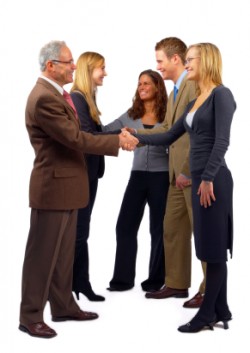 Cultivation is the process of building relationships, which is what fundraising is all about!
Cultivation is NOT:
A monologue about how great your program is.
A single meeting.
A tour of your facility, highlighting the shiny new (or dirty old) equipment, classrooms, facilities, conference rooms, etc.
Cultivation IS:
A dialogue between someone at the organization (usually the executive director and/or a board member) and the prospective donors.
About relationship building, which requires a series of meetings or interactions, over time.
An opportunity to educate a prospect about the benefits and outcomes of your organization and ignite his or her passion for the mission.
An opportunity to learn about a prospect and to understand his/her interests and what motivates her/her to give.
How To Cultivate a Prospective Donor
So how should you cultivate a prospective donor? Try doing the following over the course of a year or two:
1. Give a tour.
Not just of the facility or programs, but of the individuals who benefit from the facility and programs. After a tour, the individual should leave with an understanding of how important and meaningful your work is, and who your organization is helping, not just whether the facility is shiny and new (or old and in need of repair). They should be able to tell a story about someone they met or someone your program helped.
2. Meet at his/her home or office.
This is an opportunity to really get to know the prospect, to find out what motivates him/her as well as share important program updates. This is your best chance to build a meaningful relationship in the comfort and privacy of a home or office. Notice, I didn't say meet at a restaurant. Restaurants can be noisy, distracting, and not the best meeting place, especially for a first meeting.
3. Pick up the phone.
Call you donors and prospects on a regular basis to keep in touch, as well as to provide program updates. Ask open ended questions to learn more about your prospect, how they are feeling about your relationship and programs.
4. Write a note.
Similar to picking up the phone, keep in touch with donors by email and handwritten notes. Send them press releases, event invitations, success stories, and updates about your programs.
5. Provide meaningful volunteer opportunities.
Invite all prospects and donors to become more involved with your organization. This includes working directly with clients, serving on committees or one time opportunities.
What other things have you tried to cultivate your donors? I'd love to hear about it in the your comments.