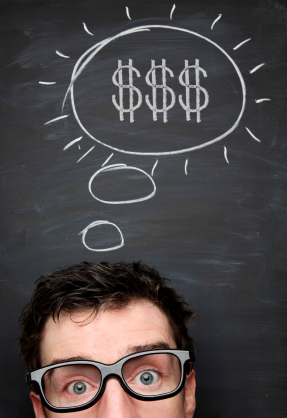 The definition of insanity is doing the same thing over and over and expecting a different result. Are you doing anything differently this year to raise more money for your cause?
The key is to actually have a development plan.
Here are the most basic steps necessary to create your own development plan. These steps will get you moving in the right direction, but creating a highly effective development plan isn't easy. There are many details that can make or break your plan.
Creating a Development Plan to Raise More Money
There are four basic steps for creating a development plan to improve your fundraising.
1. Create a Baseline
Analyze what you've done in the past. What did you do last year to raise money?
Grants – How many grants did you apply for, and receive?
Events – How many fundraising events did you have? How much did they cost and how much did they raise? How much time and effort did they take?
Mailings – How many bulk mailings did you send, both traditional and electronic? How many people did each solicitation go to? How many responses did you get from each mailing? What was the average gift?
Asks – How many individuals did you solicit?
2. Create Goals
Ask yourself the following questions:
How much money do you want to raise?
What resources will you need to raise that amount?
What is the gap between the amount you're currently raising and how much you want to raise?
3. Determine What to Change
Figure out what's been working versus what you need to change. Consider the following:
Will you have the same events?
What new foundations can you apply to?
How many new cultivation activities will you have?
How many individuals can you solicit?
How can you work with your board members differently to leverage their contacts?
Will you provide a board retreat and development training for them?
4. Write Down Your Plan
Write down your goals, the action steps necessary to get there, who's responsible for each step, a timeline and a budget. Remember the definition of insanity is doing the same thing over and over and expecting a different result. Make sure you're trying new things to achieve better results.
Achieving the Best Results
Creating an effective development plan is one of the most crucial and challenging aspects of fundraising. But it's absolutely worth doing right. The difference between a good development plan and a great development plan can be tens of thousands of dollars in donations. If you want your development plan to be the best it can be, I offer an extensive 5 Week Fundraising eClass that's perfect for small development shops.
How's it Work?
Within 5 short weeks, you'll learn how to create a highly detailed development plan that provides you with a blueprint for raising a ton of money. Complete the course work from the comfort of your own computer without ever having to leave your home or office. There are no boring classes to sit through; no mandatory webinars. You can work at your own pace whenever it's convenient for you. Throughout this 5-week period, you'll have unlimited email and phone access to me as I personally help past your stumbling blocks.
If you have any questions, feel free to contact me.