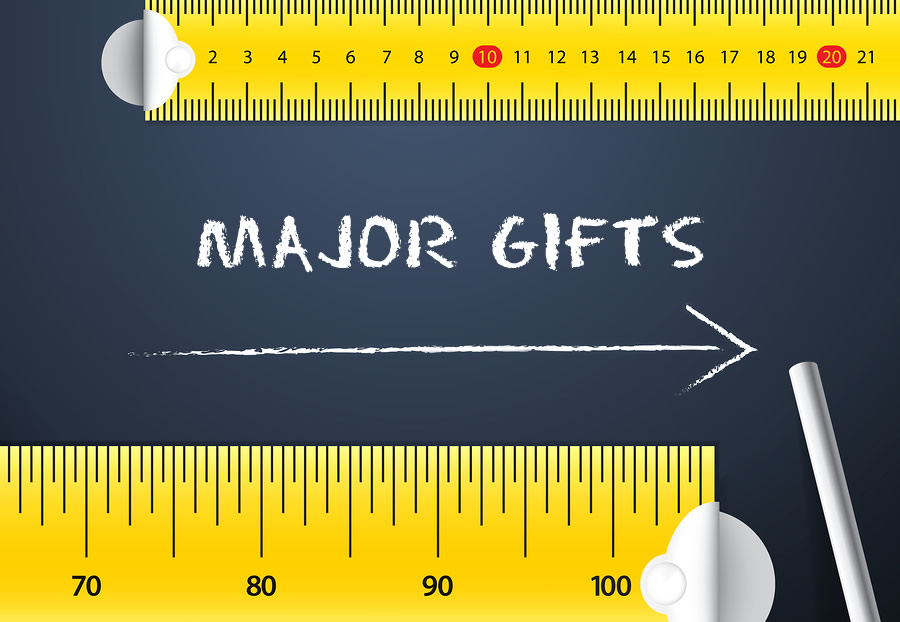 You know the expression, "What you measure is what you get?"
It's mostly true.
Research finds that most small nonprofits are only measuring dollars raised when it comes to major gifts.
Dollars Raised is Just One Metric
Unfortunately, dollars raised is not always the best measure of whether your major gift program is working, and it's certainly not the only measure. Dollars raised also doesn't necessarily tell you how good of a job your major gift fundraiser is doing.
For example, a few months back I was interviewing a director of development candidate. Although she had only been at her previous job for a few months, she claimed to have raised a $1 million gift. Now, you and I both know that her predecessor did most of the heavy lifting. Yet, she got the credit for the gift and the predecessor didn't.
That illustrates one reason it's important to take other measurements when it comes to your major gift program.
Major Gift Metrics You Should Be Measuring
Major gift fundraising is a long-term proposition, so you will want to have long and short term outcomes.
Obvious metrics…
Some of the obvious measurements include:
Dollars raised
Number of gifts (new and repeat)
Average gift size (taking into account any outliers)
Number of meaningful donor visits
Number of asks made (and amount asked for versus amount given)
Meaningful stewardship activities / visits
These are all relatively easy to measure, and start to give you a more complete picture of your major gift program.
Not-so-obvious metrics…
Also important to gauge are some longer-term and harder to quantify metrics, including:
Donor engagement
Donor satisfaction
Donor trust
You can mine for this information using tools like a brief online survey, as well as in-person interviews.
Taking Your Major Gifts Program to the Next Level
If you're only measuring dollars raised, you have only the most basic of major gifts programs.
Take time to measure the actions you and your donors are taking to gain greater clarity and begin expanding your major gifts program in meaningful ways.
---
Measuring the RIGHT metrics…
Measuring the right metrics is an important component of any successful major gifts program. This post represents a small excerpt from one lesson of my new online course, Mastering Major Gifts. In the course I also provide a metrics dashboard to ensure you're tracking the right metrics. You'll even learn all-new ways to measure donor commitment.
Learn more about Mastering Major Gifts and how it can transform your fundraising career and your nonprofit.
---
What are you measuring at your nonprofit? Let me know in the comments.