Have you ever felt like a Pollyanna? Have you ever wished you could be that optimistic? The Pollyanna Principles can help.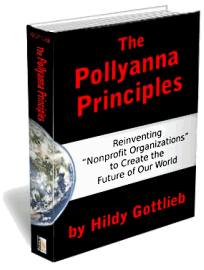 I recently finished reading The Pollyanna Principles: Reinventing Nonprofit Organizations to Create the Future of Our World by Hildy Gottlieb. I couldn't wait to share my review. Please know that this is an honest review about a book that can help your organization in profound ways — I don't earn a dime if you decide to purchase it.
If you can't remember why you got into nonprofit work in the first place, this book is a must read. Written straight from Gottlieb's heart out of a desire to see a better world, her remarkable concepts provide eye opening insight on how your organization can have more impact. However, this book is not a light or easy read, so don't plan on taking it to the beach.
How The Pollyanna Principles Can Help
Are you frustrated by the slow progress made by your organization?
Do you wish you could do more for your cause or mission?
Do you think you can't create the future you want?
The Pollyanna Principles says you can and teaches you how to do all of these things. They key is to reframe the way we think about our organizations, the issues they are designed to solve, and how we respond to them. We need to change our "expectations and assumptions." We need to look beyond what we know is possible and focus instead on how we want to see the world and work toward that.
"The Pollyanna Principles are not about fixing what we do not like. They are about inspiring and encouraging our human potential to achieve what we do want," says Gottlieb. For example, do you want to treat drug addicts? Or do you want to create a world with no more need for drugs?
Are You Frustrated By Fundraising?
Assuming your organization is like so many nonprofits, you might be frustrated by fundraising. Successful fundraising takes time and patience. The Pollyanna Principles cites example after example of successful collaborative and capacity building efforts that provide a much broader impact without the need for additional resources. These collaborative efforts force the organizations to think in new ways and yield much better outcomes and results. This new type of thinking is paramount to success.
If you think these concepts are too pie in the sky, Gottlieb provides concrete tools on how to work with your board and staff to turn your dreams into reality.
There are so many wonderful concepts and ideas in this book, I can't possibly do it justice in my review. I strongly recommend you check out Gottlieb's work at www.pollyannaprinciples.org.
If you've already read The Pollyanna Principles, I'd love to hear your thoughts and comments. Please share them below.