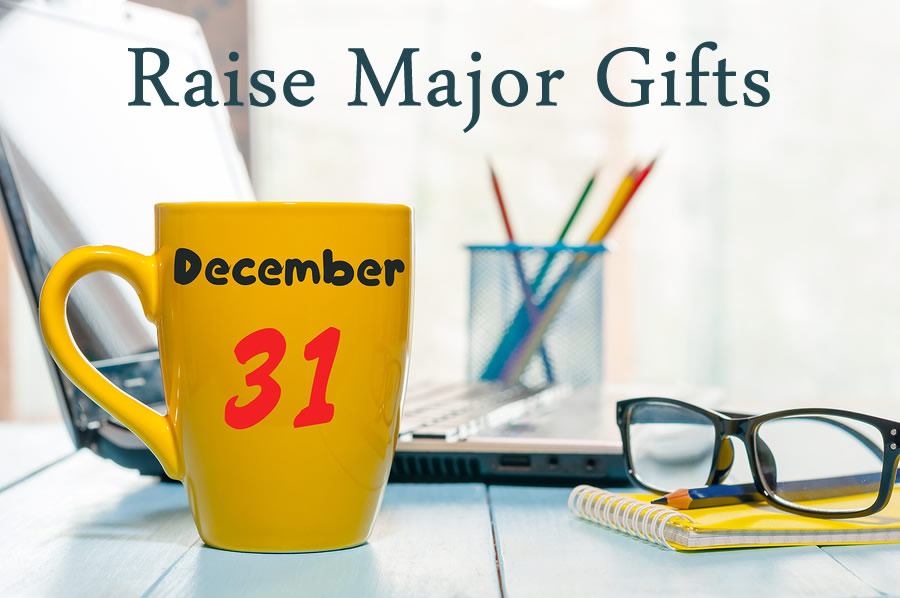 Are you concerned about year-end giving? If so, you're not alone.
Regardless of your fiscal year, the calendar year plays a huge role in fundraising, especially in the USA.
Most organizations receive between 25% and 50% of their total dollars raised for the year in November and December. Some organizations raise more than 10% of their total raised in the final week of the year, between Christmas and New Year. That's 10% in just one week!
How much of your total fundraising revenue did you raise in December last year?
What about the year before?
While you'll want to have a multi-pronged year-end strategy, including direct mail and online giving, don't overlook major gifts. Just one major gift can have a profound impact on your bottom line. For example, if you normally raise $100,000 from your year-end efforts, one gift of $10,000 increases your results by 10 percent.
It's Not Too Late to Raise Major Gifts
Think it's too late to start raising major gifts before year-end? Think again.
Here are five steps you can take to ensure you get some major gifts in time for year-end fundraising.
1. Check your data.
It sounds simple, but do you know who your major donors are or could be? Run reports from your database to find out who your largest and most loyal donors have been over the past few years.
Ask yourself some important questions, such as:
Have they given yet this year? (Was it their usual amount? Was it more or less?)
When do they normally give? (Do they usually give at the end of the year? Is it likely they still plan to make a gift?)
How well you know the person (how easy or hard will it be to get a meeting?
Have you told them how their last gift was used?
Have you thanked them genuinely and more than once?
Using your answers to the above question, develop a list of people (10, 20, 50 or even 100) who you could reach out to in the next two months. The number of people on your list will depend on your other responsibilities and staff capacity.
2. Pick up the phone.
Call all of the people on your list — as many as you can manage.
Thank them for their past giving.
Tell them how their last gift or past gifts were used. Be as specific as possible.
Invite them to take a tour, to volunteer, or attend an event.
If appropriate, ask to schedule a meeting to discuss their year-end gift (or giving in general).
PRO-TIP: Having a hard time getting meetings? We explain precisely how to engage your donors step-by-step to secure a meeting in Mastering Major Gifts.
3. Make yourself available.
Recently, I was facilitating a meeting and the CEO was celebrating the fact that he gives his entire staff off the week between Christmas and the New Year.
While we all love to spend time with family time during that last week of the year, it's an extremely important week for fundraisers and for nonprofit organizations.
It's not unheard of for donors to show up at the office to hand over stock certificates. At a minimum you should be checking messages on a regular basis that week to ensure you can help any donors who call in with questions or concerns. If you don't return calls, you could miss out on some big gifts.
4. Remember to say 'thank you.'
Although I hope you are implementing a robust stewardship plan all year long, there's no better time than the present to say thank you.
On more than one occasion, I've been asked if it's okay to do a "thank-a-thon." The answer is YES, but that once-in-a-while effort doesn't replace the need to thank donors immediately after they make a gift. The last thing you want is to call a donor to say thank you, and they can't even remember making a gift. So always say thank you immediately after a gift is given.
That being said, saying thank you and expressing genuine gratitude to our donors more than once during the year is also appropriate. I mentioned it above, but now is a great time to let donors know how their previous gift was used. Make the donor feel like an invaluable part of your organization.
We couldn't have done it without you!
Of course, you may not be able to tell every donor exactly what their money did, but you can let them know that you were able to educate more kids, get closer to finding a cure, feed more families, and more… due to their generosity. The more specific you can be when you thank them, the better.
5. Ask for a specific gift.
You know the old saying, "if you don't ask, you won't get." Well, it's true.
In fundraising, we ask by mail, online, over the phone, and most importantly for raising major gifts, in person.
Don't rely on direct mail or online fundraising to generate major gifts. If you want to raise big gifts, you're going to need to ask for them face-to-face. Schedule meetings with your top 10, 20 or more donors and ask them for an increased gift this year.
If you're talking with people who have given $1,000 to your year-end campaign in years past, ask them for $2,000 or even $2,500. But before you do, have a good reason and practice articulating it well.
What will the increased gift accomplish? Why should they increase their gift? Have a great answer to these important questions before asking for a bigger gift.
Yes, You *CAN* Raise Major Gifts
Do you really want to supercharge your major gift fundraising before year-end this year and for all of next year? Our acclaimed 7-week online course, Mastering Major Gifts, was designed to do just that.
In Mastering Major Gifts, we take a deep dive into all of the topics above, plus many more. The course takes you step-by-step through the entire process of raising major gifts, so you never have to guess what comes next.
Mastering Major Gifts isn't for everyone.
Mastering Major Gifts is for experienced development directors who have never had formal training to raise major gifts. Although you may have had bits and pieces in other conferences and webinars, this course is the first comprehensive, all in one, major gifts course. And it's worth 35 CFRE credits to boot.
If you get one new major gift before year-end, the investment will be worth it. Fall classes begin soon, so don't delay!
Don't pass up this incredible opportunity to master the skill of raising major gifts. Not only will it will pay for itself many times over, but it will also be an indispensable skill for the rest of your career.