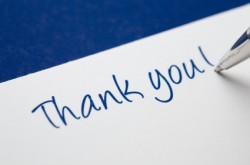 Did you know that donors are significantly more likely to make another gift to an organization when they are thanked properly?
Acquiring New Donors Costs More Money
It costs significantly more money to acquire new donors than to keep your old ones.
In addition, the people who have been donating longer are more likely to be giving bigger amounts. For both reasons, it is critical to keep the donors you have in order to raise more money.
The best way to keep your donors donating year after year is to thank them and let them know how their money is being used.
5 Simple Ways to Thank Your Donors
Ask yourself the following questions. Do you thank your donors properly?
1. Do you have a plan for thanking different donors?
While every organization acknowledges donors slightly differently, you should have a plan for how you will thank each donor. Does a $10 donor get treated the same as a $10,000 donor? I hope (and assume) that the answer is "no". How is each one acknowledged? Do they get a phone call, an email, a letter, acknowledged in your newsletter, all of the above?
2. Do you thank your donors in a timely fashion?
How long does it take you to get your thank you letters out after receiving a gift? One week, two, more? Your goal should be within one week (direct mail studies say within 48 hours, but I think that is unrealistic for most offices). Do your higher level donor letters take longer to get mailed because they sit on the director's desk for a week waiting for a personal note?
Does a board or staff member call to thank the donor after receiving a gift? Studies show that a thank you call from a board member within a week of receiving a gift has a significant impact on increased levels of giving for future gifts. Making thank you calls is a great way to get board members involved in the fundraising process.
3. Are your letters personal and customized?
Are your thank you letters all generic form letters or do you acknowledge different donors in different ways? The more personalized your letters are, the better your future fundraising results will be. Do you have a specific letter for first time donors and another one for repeat donors? Do you acknowledge a $25 gift differently than a $5,000 gift? Can you add handwritten, personal notes to letters to donors above a certain level (all donors over $500, for example).
4. Do you inform donors how their money was used?
Keeping donors informed about how their money was used is one of the most important ways to ensure future gifts, and yet so many nonprofits neglect this important step. How do you communicate to your donors that their investment in your organization was put to good use? Show them with individual client success stories. Tell them how many clients you served and what the impact was. Tell them the difference your work made in the community. Make sure to let them know that it would not have happened without their gift, no matter how small. For donors who designate their donations to specific programs, be sure you are telling them the impact that their gift had on that specific program.
5. Are you inviting them to get involved in a specific way? Is there a way for them to take action?
In your letter, on the phone, or in person, be sure to thank your donors, but to also invite them to take action and become more involved. Can they volunteer in a direct service capacity, on a committee, or doing office work? Can they participate in a letter writing campaign, clean a park, or serve food? Are there weekly volunteer opportunities and also one time opportunities? Be sure to let them know about all of the volunteer opportunities and encourage them to get involved.
More Ways to Thank Your Donors
Check out this "Thank You Letter Checklist" by Joanne Fritz for more good ideas.
Do you have other ideas? I'd love to hear about them in the comments. If you aren't thanking your donors properly, I'd love to hear about that too.