An Essential Fundraising Guide for Nonprofit Professionals and Board Members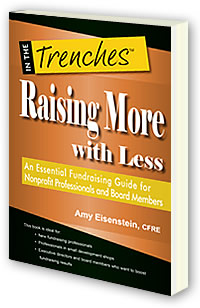 Raising More With Less will take the reader step-by-step through creating or improving the organization's development program, whether or not it has paid fundraising staff members or is fortunate enough to have one full-time staffer or more.
In Raising More With Less, you will learn:
How to build the fundraising board of your dreams
How to create a development plan for success and improve fundraising results in eight simple steps
How to use technology to enhance your fundraising results
How to raise more money using bulk mail, face-to-face solicitations, and planned gifts
How to improve your special event results through sponsorship
How to increase grant revenue through relationship building
Much, much, more!
Readers are Raving about "Raising More With Less"
Amy Eisenstein's Raising More With Less is a practical, easy to use book that should be a key component of every nonprofit leader's toolkit. Whether beginner or experienced in fundraising, board member or staff, this book will be used over and over again, as you build a successful fund development system.— Don Crocker, CEO/Support Center for Nonprofit Management
---
Buy "Raising More With Less" Today and SAVE!
Use my affiliate links to receive the best deals on Raising More With Less.
Discount Code?
Purchase direct from my publisher to use a discount code, whether you buy one or multiple copies:
Buy ONE Copy:
If you want a single copy, you'll get the best price through Amazon:
Buy MULTIPLE Copies:
To bring my simplified style of fundraising to your entire team, receive a bulk discount by purchasing multiple copies:
Whoever said 'It takes money to raise money' clearly did not work at a small shop. Amy knows what it takes to raise money with limited resources. Any organization, staff person or volunteer looking to start or rebuild their fundraising efforts should start with this book!— Peter T. Rosario, CFRE, VP and COO of the Newark YMCA