Are you looking for someone to connect with the crowd at your next conference?
Or a workshop presenter who will give your participants step-by-step, proven methods that they can use right away?
Development expert Amy Eisenstein, ACFRE, has educated and inspired audiences at the IAFP International Conference, the AFP-DC Bridge Conference and Charity Channel's Annual Summit, among others.
Why Choose Amy?
Amy can't make fundraising easy, but she does make it simple.
Participants easily grasp even the most complex fundraising topics as Amy brings the subject to life with specific examples and stories from the real world of fundraising.
Executive directors, development professionals, and board members leave energized and ready to be more effective fundraisers.
Small nonprofit shops are able to move into the world of individual major gifts – and medium and large organizations are able to do even better.
Audiences learn how to raise far more money for the organizations they love.
Straightforward and on-the-money, Amy Eisenstein's presentation captures the essence of good fundraising. Using well structured, process-oriented steps, Amy guides listeners through prospect identification, cultivation and the "ask." Amy is delightful, but more importantly, she speaks directly about the issues and process.— Philip E. Wilson, LCSW, Chairman – West Bergen Mental Healthcare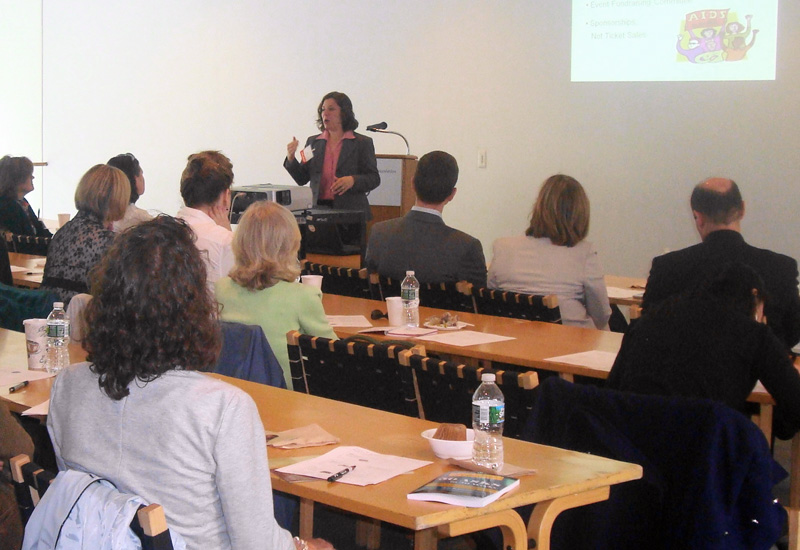 How It Works
All of Amy's development workshops, speeches and training sessions are customized to your needs.
Before your event, Amy will contact you to discuss the details so she's ready to create a program that engages and captivates your audience.
Potential Speaking Topics

New Keynote for 2014/2015: Happiness, Habits, and (Major Gift) Fundraising: Strategies to Help You Survive and Thrive
Major Gifts for Small Shops: Grow Your Annual Fund with Individual Asks
Scared to Ask? Getting Started with Face-to-Face Fundraising
How to Turn Volunteers (Board and Non-Board Members) into Fundraisers
Creating a Plan You Can Stick to for Small Shop Directors
8 Simple Steps to Skyrocket Small Shop Results
How to Turn Your Board Members into Fundraisers
Billion Dollar Fundraising: Lessons Learned from International Nonprofits
50 Asks in 50 Weeks: How to Jumpstart Your Small Development Shop
Building Better Boards: Board Fundraising Roles and Responsibilities
Building Your Fundraising Team: Tips and Techniques for ED's, DoD's and Board Members
You need speakers who can energize, empower, and provide your audience with state-of-the-art fundraising tools and tips that they can take home and use right away. Amy is just such a speaker. Contact her today and get ready for all of the positive feedback you'll hear from your guests!
Amy's workshop has been an inspiration to us. We've found that tracking our "asks" really gives us a great visual for the work we are really doing — something concrete to share with our board.— Dawn Knill, CFRE, Director of Development and PR – Sage Eldercare