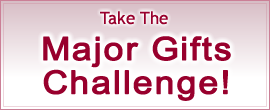 Whether you've never raised a major gift before or just want to raise more major gifts this year, you've come to the right place! You'll only need to commit a few hours per week. Stick with it for a year, and I promise you'll be raising major gifts in no time!
Succeed in 2 Easy Steps:
Commit at least 2 hours per week (5 hours is optimal) to taking the recommended action. This step is critical — if you don't take action, you won't see results.
Share your progress in the comments of each post and I'll offer you free advice to keep your efforts on track.
After seeing you present at the AFP Conference in San Diego, we followed your Major Gifts Challenge and used your book 50 ASKS in 50 Weeks to go from $850,000 to $1.3 million for the Abbotsford Food Bank this past fiscal year. Just wanted to say thanks!— Dave Murray, Director – Abbotsford Food Bank
The best part of all, taking the Major Gifts Challenge is entirely FREE!
And it's never too late to start.
Simply Read Each Post in Order: