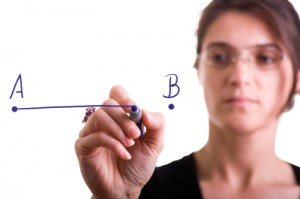 Congragulations — you've made the ask!
(If you're not quite there yet, go back a step and prepare for any twists and turns your ask meeting might take. Be sure to read my post Why Maybe is the Best Answer When Asking for a Major Gift about how to respond when a donor says "Yes," "No," or "Maybe" during the ask meeting. That post also introduces the topic of following up.)
Now it's time for a more thorough discussion on how to follow up to make sure you actually get the promised gift.
While I did say that "Maybe" is my favorite answer, let's start with "Yes."
What to do When a Donor Says "Yes"
First, Congratulations! You got the gift. Now it's your job to make sure that the donor not only follows through, but also feels great about doing so.
First, remember to say "Thank You!" Yes, this is basic, but it can be easy to forget in the excitement of getting a "Yes."
Ask how and when they would like to contribute. Would they like you to send them an envelope? Would they like to give by credit card (online)? Be sure to ask when they will be making the gift.
If appropriate, ask them if they would like a tour.
After the meeting, put your Stewardship Plan into action:

Have the asker from the meeting send a Thank You/meeting recap email and remind the donor about how they said they would make the payment (if appropriate). Include a link if they are paying by credit card.
Send a tax receipt/Thank You letter within forty-eight hours of receiving the donation.
Have a board member or the executive director call to say "Thank you" within one week.

Mark your calendar to follow-up in six months and let the donor know how their gift is being used (this is also part of your Stewardship Plan). Remember, one of the key reasons donors give for not making a second gift is that they were never told how their first donation was used.
Start the cycle again. Continue to cultivate the donor all year long in preparation for next year's ask. Remember, you need to ask for more next year since they said "Yes" so easily this year.
What to do When a Donor Says "No"
It's always disappointing when a donor says "No," but never take it personally. This is a business decision, not a personal one. You will get some No's in fundraising — and if you only ask when you're certain you'll get a "Yes," you probably aren't asking enough.
That said, in sales the theory is that "No" is just one step closer to "Yes." You just need to get the "No's" out of the way.
It's the same in fundraising. Your job as a fundraiser is to turn a "No" into a "Yes." If you've done your job during cultivation and the prospect is willing to meet with you again, they should be prepared to give something. After all, the donor wouldn't be meeting with you if they weren't interested in supporting your organization at some level!
Therefore, it's your job to figure out the reason for the "No" and turn it into a "Yes." This might mean a gift of less money. It could mean waiting until next year, or perhaps the donor wants to give but wants their money to go to a different program than the one you've made the ask for.
When your donor responds with a "No," don't leave the meeting until you ask some open-ended questions about how to turn the "No" into a "Yes." (Again, check my post Maybe Is the Best Answer for more details).
Following Up After a "No"
Be sure to send any follow-up materials you promised at the meeting. Do they need more information to make a decision about a Major Gift?
Send a Thank You letter. Yes, that's right. The purpose of this Thank You letter is to let them know how grateful you are for their time and consideration, and to leave things open to continue the conversation.
If you still believe there's hope, resume your cultivation plan with that donor. Invite them on a tour, to programs, and to volunteer. Keep them updated on your program.
Depending on how you left the conversation, follow up with another ask meeting eight to twelve months later.
What to do When a Donor Says "Maybe"
The most important thing I can say about "Maybe" is that whether or not you get a gift depends COMPLETELY on your follow-up. Donors will not take the initiative! If they say "Maybe," and YOU don't follow up, you will not get the gift. It will be as though you never asked.
After the donor says "Maybe," this is how you respond:
"I understand. We're asking you to make a big investment in our organization. Is there anything I can provide for you to help you make your decision (more information)? Would you like to speak with anyone else at our organization before you make a decision? Do you have any lingering questions that I haven't answered?."
Follow up sooner rather than later. Be specific. For example, ask if you can get back to them next Thursday, and would morning or afternoon be best.
Action Item of the Week — 2 hours or less

Make sure your Stewardship Plan is up to date and accurate. Continue to make ask appointment meetings with prospective donors on your list. Lastly, start following up with the donors with whom you've already met.
What concerns do you still have about making the ask or following up after you hear your answer? Let me know in the comments.
This post is part of Amy's Major Gifts Challenge. Read the entire series to learn how to solicit major gifts by spending just a few hours each month.