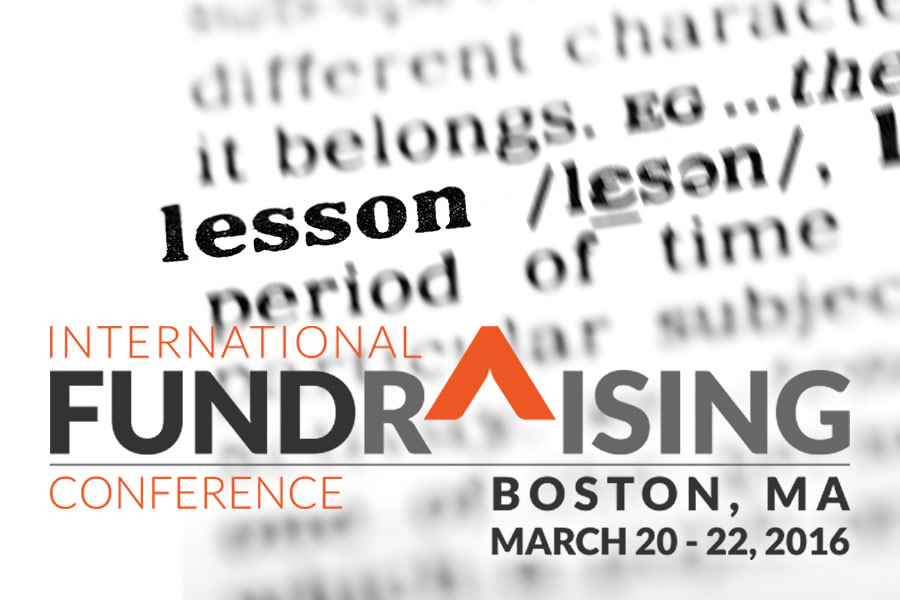 If you had the opportunity to attend the AFP International Conference in Boston this week, I'm sure you learned a lot. I know I did.
Here are a few of my favorite takeaways. Some are from educational sessions and others are from conversations I had in the hallways.
1. Women need more confidence when applying for nonprofit jobs.
Men apply for jobs when they meet 60% of the criteria in the job description. Women apply for jobs only when they meet 100% of the criteria. This statistic was shared by Sarah Durham of Big Duck in a session called "Lean In" on women, leadership, careers, and fundraising.
If women want the top nonprofit jobs, we need to have confidence that we are capable and can learn on the job. If you want a job and believe you can do it — go for it! I was honored to be included on this panel of distinguished and accomplished women.
2. Consider your donors' feelings.
Dr. Adrian Sargeant asked us to think the question "How do we want to make our donors feel today?" and "How do we SHOW donors if they give more, it would have a bigger impact?"
What great questions! Don't focus on raising money. Think about how your donors are feeling — and what you can do to make them feel better? How do you demonstrate that bigger gifts equal bigger impact?
3. Divide your donor database.
"Divide your donor database into three categories," says Jay Love of Bloomerang:
Those who don't give
Those who give 10% of your funding (likely 90% of your donors)
Those who give 90% of your funding (likely 10% of your donors)
You need to build relationships with those who are giving 90% of your funding, and automate those who give 10%.
What a terrific, concrete way to think about and divide your donor database. Stop treating every donor the same.
4. Story-living trumps storytelling.
Story-living is a more intense form of storytelling, says Tammy Zonker of Fundraising Transformed. It's when you invite the donor in to "live" your story. Tammy used an example of having a donor listen in on a hotline for 15 minutes and experience some of the calls coming in.
5. Survey your donors.
I'm not going to give specific credit here, because multiple speakers raised this important idea.
If you want to have true relationships with your donors, they can't be one way (you sending your donors information). You need to check in with them from time to time and ask them a few key questions, such as:
How do they want to be communicated with?
Do they trust your organization?
How satisfied they are with your organization (on a scale of 1 to 5)?
Also, provide a box in the survey (and on your website) for donors to provide comments and feedback. However, when you do this, you must be prepared to provide timely responses to complaints and criticism. If you do, donor loyalty and giving will increase.
Major Gifts Research Results Shared…
I also had the opportunity share the results of the research I worked on over the last year with Dr. Adrian Sargeant. Our session was called "You can Raise Major Gifts at Your Small Shop: Research Proven Methods and Best Practices". If you haven't seen the research results yet, be sure to download the study, here:
Study: 10 Steps to Improve Major Gift Fundraising »
What did you learn at the conference? Let us know in the comments.