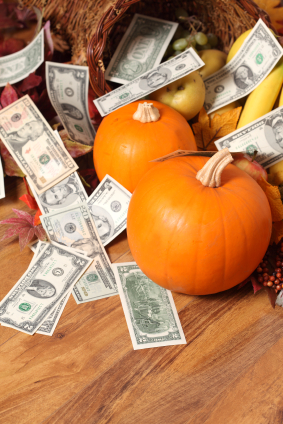 As Thanksgiving rapidly approaches, we concentrate more than ever on showing our gratitude. How do you show your donors gratitude?
Are you truly grateful for what they do?
Do they know it?
Of course, you should show your donors gratitude all year round, but since the theme of giving thanks is especially prevalent at this time of year, you might as well take advantage of the season and do something truly special for your donors.
Tried and True Methods for Thanking Donors
I've discussed several tried and true methods for thanking donors before. The ways listed in this post are:
Write a Note
Make a Call
Send a Letter
Type an Email
Give a Hug or a Handshake
These methods are all very important to do. But what about some other ways you can show your donors gratitude?
Thinking Outside the Box
If you want to make your organization really stand out, think outside the box.
No matter the method you're using to thank your donors, be sure to tell your donors how their funds were used. You can do this in many ways, including:
Provide a testimonial
Tell a success story
Include statistics
Use a combination of all three. Testimonials and success stories get to the heart of the matter, while statistics address the concerns of people who are more analytical. Using a combination of both will ensure all donors get the information they need to understand your good work.
How can you make your organization stand apart from the crowd?
1. Create a short thank you video to send by email. Although more and more organizations are creating thank you videos, those that do are still in the vast minority. A thank you video can be a powerful tool to communicate the impact of your work.
2. Send a photograph. While clearly much less expensive than video, a photograph can also tell an important story. Show the difference the donors made by telling them why the image in the photo was able to happen, thanks to their donation.
Be sure to include smiling faces in your photos, even if the donor helped construct a new building. It's never about the building itself, but about what programs and services take place in that building.
3. Include a note from a client. A letter from a client goes a long way with donors. It provides that personal touch and important connection to the individuals who are being helped.
4. Social media shout out. While you may not be able to do this for all donors, this may be appropriate for some. Think about ways to recognize donors who are active on social media and who give online. You don't want to embarrass anyone or leave anyone out, so create a plan and check with donors first.
5. Certificate of appreciation. Cost effective, yet different from a letter, certificates can be meaningful ways to thank people.
Last week I was facilitating a track at the AFP Delaware Philanthropy Day Conference. My third and final session of the day was on Stewardship. The most important takeaway:
Create a stewardship plan.
Stewardship Basics
One stewardship plan basic is knowing what you will do for each level of donors:
a.) $10,000+
How will they be treated differently than your lower level donors?
On a piece of paper, make a list of five to ten ways you will steward these donors throughout the year. Include the basics like a handwritten note and tax receipt, to taking them out to lunch.
b.) $1,000 – $9,999
Will these donors all get a personal note from the executive director and a thank you call from board members? What can you do to make them feel special? When and how will you tell them how their donation was used?
c.) Under $1,000
After the basic thank you letter, what else can you do for them?
Can you do anything special or different for first time donors? Repeat donors?
Want even more ideas for thanking your donors?
Check out this awesome slide presentation called How to Thank Your Donors so They'll Come Back and Give More by Katya Andresen and Jocelyn Harmon.
Another great article is How to Thank Online Donors by Socialbutterfly.
What creative ways do you use to thank your donors? I'd love to hear about them. Please share them in the comments below.