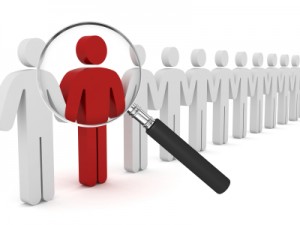 Do You Know Who Your Donors Are?
If you want to be successful at Major Gifts fundraising, a crucial step is to identify who you will ask.
We've already gone over some of the other "getting started" steps, including committing to getting more major gifts (i.e., taking the Major Gifts Challenge), and determining the size of a major gift at your organization.
Hopefully you've also done some work to prepare your stewardship program in advance of receiving your first gift.
Now, it's time to identify prospective major gifts donors for your organization. The goal is to get a list of your top 20 prospective donors with whom you will work this year.
How to Identify Your Major Gift Prospects
There are several ways to identify major gift prospects (prospective donors).
The first and best way is to check your database. A database is a list of your supporters, which includes contact information and records for each time they've donated. Hopefully you have a database with donor history going back at least two or three years. (And if you don't have a donor database, never fear — keep reading.)
When checking your database to determine your best prospects, you're looking for two things:
Your Largest Donors
Run a report to identify those who have given the most, cumulatively, over the last two years. It is important to use cumulative giving as criteria, because if you simply look for anyone who has given over $1,000 (as a one-time gift) you may miss donors who come to every event and donate smaller amounts throughout the year.
Your Most Loyal Donors
Run a report to identify anyone who has given at least seven times during the last ten years. This group is significantly different from your largest donors group, because there's no minimum gift amount required to make it onto this list. In other words, this list can include individuals who give $10 per year, but do so consistently, year-after-year. The reason your loyal donors are important is that they are your best planned giving prospects, in addition to the fact that loyalty is uncommon these days in fundraising. It is more important to me to have a low-level committed donor, than one who gives once and never gives again.
These donors (the largest and your most loyal) are going to be your best individual giving prospects, because they already have an affinity for the organization and are showing it by donating money.
Action Item of the Week — 2 hours or less

Make a list of your top 20 prospects from your database.

This list should be comprised of your 15 largest donors and your top 5 most loyal donors. If you need help narrowing your lists, consider things like volunteer work (are they engaged with your organization) and connectedness (how are they connected to your organization).

Reminder: You are looking to increase your INDIVIDUAL giving. If your list is primarily comprised of corporations and foundations, you'll want to start again.
Starting from Scratch
If you don't have a donor database to work with, or all of your prospects are corporations and foundations, you still need to come up with a list of 20 individuals to work with this year.
Use the simple spider chart below with your board and staff members to come up with a list of people you know. The list should include board members, former board members, volunteers, friends and family, etc. Think outside the box to come up with a good, long list.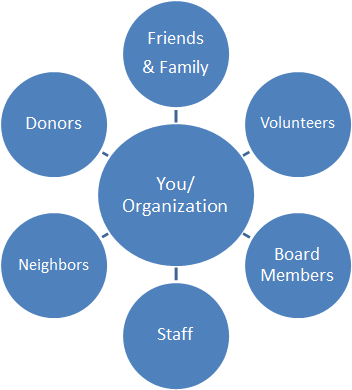 Two Characteristics of a Good Prospect
Once you have your list and are ready to narrow it down to your top twenty, there are two key characteristics of a good prospect:
1. Capacity
Capacity is the ability to make a gift. You're not looking for people with the wealth of Bill Gates, but you do want people who have a job and some disposable income.
2. Inclination
Inclination refers to an interest in your organization, mission, or cause. A person with all the money in the world isn't a good prospect if they have no interest in giving to you. However, inclination can be grown and nurtured, while capacity cannot.
If appropriate, have a meeting with staff and board members to help narrow your list to your 20 best prospects.
Recap: Determine Your Prospective Donors
So this week you'll want to spend a couple hours working on your list of the top 20 prospects for your organization.
What sort of obstacles do you think you'll encounter as you create your list? Share your concerns in the comments and I'll uphold my end of the Major Gifts Challenge by providing the guidance you need to see this task through!
This post is part of Amy's Major Gifts Challenge. Read the entire series to learn how to solicit major gifts by spending just a few hours each month.