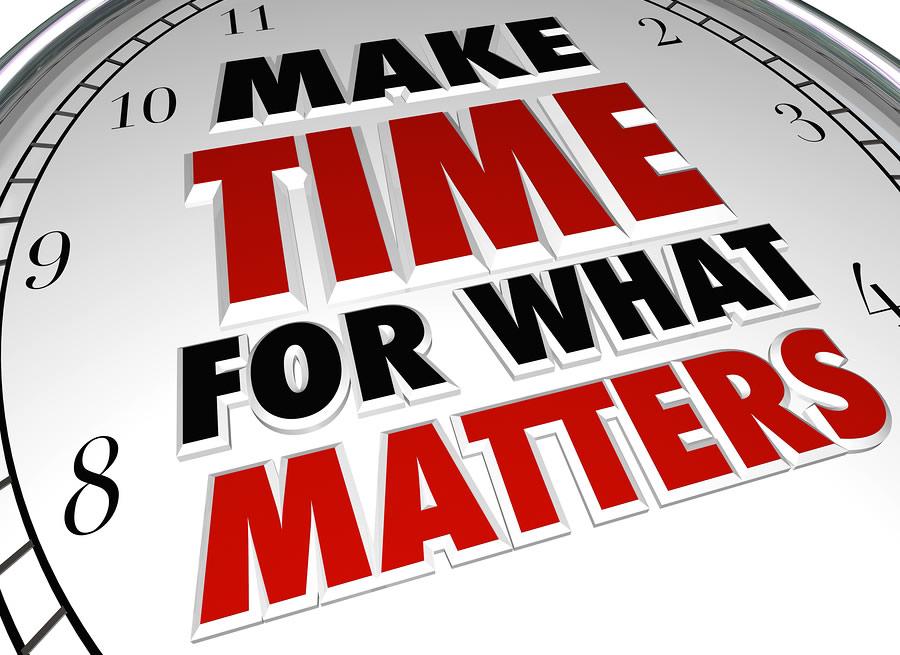 What's Stopping You from Raising Major Gifts?
Part 4 of 5: No Time
It's true that major gift fundraising is a huge time commitment… and the payoff might be months or years away.
With grant deadlines looming and your gala coming up, it's a real challenge to find time to raise major gifts. However, if you truly want to raise major gifts, you're going to need to make the time.
Top 5 Tips to Make the Time to Raise Major Gifts
Here are my top tips for making time to raise major gifts. Notice, I said MAKING the time, not FINDING the time. The time is there — it's just how you decide to use it.
Don't believe me?
What if you have a swamped day, and then a family emergency comes up. All the "important" things that were previously scheduled suddenly seem to vanish. Your priorities shift.
If major gifts are truly important to your cause, you'll shift your priorities to invest the time it takes to raising them.
On to our five tips…
1. Declare "Major Gift Mondays" at your organization.
No matter what else is going on in your week, Mondays are reserved for working on major gifts.
Of course, this doesn't meet you'll only meet with donors or prospective donors on Mondays. But Mondays will be reserved for behind-the-scenes work, like research, scheduling meetings, making phone calls, writing letters, creating strategies and plans, and showing gratitude.
However, this strategy only works if you truly clear your schedule on Mondays — no other meetings, no writing grants or responding to emails about your gala. All that can wait until Tuesday.
2. Start a weekly Major Gifts Team meeting.
This is not the same as your hour-long (or longer) development meeting. This meeting is fast — 10 minutes. It is a "check-in" meeting and a way to hold you and your team members accountable.
There are only two agenda items on the meeting agenda, and they never change:
What did we do over the past week to raise major gifts?
What follow up needs to be done, who is responsible (for the follow up) and how did it go?
What will we do next week to raise major gifts?
This meeting should include the executive director and at least one board member, so there is a lot of pressure to produce results from one week to the next. I'm not talking about raising gifts, but I am talking about scheduling meetings, doing research on donors, developing strategies and plans, etc.
Not sure how to keep the meeting to 10 minutes? Have a stand-up meeting!
You can bring your coffee, but you can't sit down. Of course, your board members can participate by phone, but they should be instructed to hang up after 10 minutes.
3. Find an accountability partner.
No one at your organization to hold a team meeting with? Find an external accountability partner at another organization who will hold you accountable with the same two questions…
What did you do to raise major gifts last week?
What will you do next week?
And you do the same for them.
4. Give yourself a deadline — and an incentive.
Need a light at the end of the tunnel?
How about 12 months, at the end of which you're committed to hiring some extra help… a grant writer or event planner to take some of the load off your plate. Or, if things are going well, a full time major gifts officer!
5. Let something (or many things) go.
What's one of the best ways to make time? Delegate and eliminate.
It could be time to cut some of your special events and grants or hand them off to volunteers. Although they may not be as successful in the hands of others, it's time to focus on major gifts. You can even eliminate some of your less successful events and grants.
The reality is, you can't do it all… not for long, anyway. So if you really, truly want to raise major gifts, you're going to need to make the time.
Remember, the time is there — everyone has the same 24 hours. It's just about how you're allocating your hours.
Major Gifts Fundraising Must be a Priority
If major gifts fundraising is a priority for you this year, you will make the time.
You may need to take a leap of faith, try something new, raise less in the short run in return for a potential payoff in the long run. Life is about taking risks and making choices. If you want to accomplish your mission and see your organization truly grow and thrive, it's time to try something new.
You can raise major gifts this year, but only if you make it a priority.
Are you ready to make it a priority? If not, what's holding you back? Share your comment below.
---
This is part 4 of 5 of a 5-part miniseries: What's Stopping You from Raising Major Gifts? Be sure to read the other posts to overcome every obstacle to raising major gifts — because you can do it!