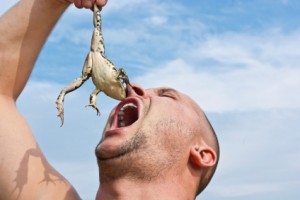 Has keeping up with the Major Gifts Challenge been a challenge for you this year?
If so, you're not alone. But if you're serious about raising major gifts this year, now is the time to recommit to the challenge with everything you've got.
Now is the Perfect Time to Recommit
We're about to round the corner on the last quarter of the year.
The fall and year-end is when more donations are made than all three other quarters combined! If you're going to throw your hat into the ring of Major Gifts, there's no time better opportunity than the present.
But if you've been struggling since day one, how can you move forward?
Two Useful Tools to Get Back on Track with Raising Major Gifts
Here are two of my favorite tips and tools to get (and remain) on track with raising major gifts as we move into the home stretch.
1. Hold a Monthly Major Gifts Meeting
The best way I know to keep on track with major gifts is to hold a monthly development team meeting.
Bring in anyone on your major gifts team, including the executive director, development staff, administrative assistant (if they help with scheduling meetings or sending thank you notes or any related tasks) and key board members.
Talk about the 20 people on your list at the meeting.
Who is ready to be asked? Who will schedule the ask meeting? How much will you ask for?
Who (on your list) needs more cultivation? Review the cultivation plans for each prospect at the meeting. Who (on your major gifts team) will be responsible for cultivation activities?
Who was asked within the last month, since your last meeting? What did they say? What follow-up needs to take place? Who is responsible for that follow up?
Make assignments to be completed during the next month.
Action Item of the Week — 2 hours or less

Schedule your first monthly development team meeting and create an agenda for it. Then at your very first meeting, schedule the other meetings for the remainder of the year. This will help you and your team to stick to a schedule and keep in touch through the end of the year.
2. Monday Morning Frog
Have you heard of the book, Eat That Frog by Brian Tracy?
It's an anti-procrastination book. Mark Twain actually came up with the concept of "eating a frog" to mean doing your worst task first, so you can easily move on with your day knowing the worst is out of the way.
If you've been dreading asking for a major gift, go ahead and get it over with. I'm sure you've heard the expression, "What doesn't kill you, makes you stronger". Good news: asking for a major gift won't kill you!
So, every Monday morning, first thing each week, take two hours to work on the Major Gifts Challenge.
I know you can do it!
Keep Your Comments Coming
Do you think one of these two methods will help to keep you focused on the challenge of raising major gifts? Can you think of any other ways to stay on track?
Share your thoughts in the comments below.
This post is part of Amy's Major Gifts Challenge. Read the entire series to learn how to solicit major gifts by spending just a few hours each month.