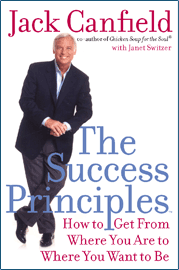 Although there are many wonderful fundraising books available these days, my all time favorite book, one that changed the way I work, is The Success Principles by Jack Canfield.
NOTE: I'm not receiving any money for promoting this book, or anything like that. It just had such a profound impact on my career that I wanted to share it with you.
If nothing else, Jack's book has taught me how to:
Set goals
Make to-do lists
Stay motivated
Be positive
I had been taught these skills many times before, but they never stuck until reading this book. Although it's long, it's a page turner and I couldn't put it down. I'm not normally a highlighter, but my copy of The Success Principles is underlined, circled, and dog-eared.
Become a More Successful Fundraiser
If you're looking to be more successful in anything you do, including fundraising, I highly recommend this book. For example, page 13 says, "Learn to replace complaining with making requests and taking action." I know many development directors who complain about the economy, their boss, the budget, etc. Instead of complaining, take action! Get out of your office and start asking donors for gifts!
This book may also help you determine if fundraising is the right career for you. Yes, it's a self-help book, but it's so much more. It talks about time management, finding a great mentor and provides great new ways to interact with your boss and donors.
Gratitude and appreciation is another important theme throughout the book. I find many development directors have become jaded and resentful of donors when they're not giving as generously as we think they could be. That attitude comes through to the donor and has an impact on their giving. Try to be grateful and appreciative of every donor and gift, no matter how small.
Personally, I love to read. I wanted to share this great find with you. To learn more about Jack Canfield and The Success Principles, visit his website:
Also, if you're looking for a good book to help you improve your overall fundraising, my most recent could be just what you need: 50 Asks in 50 Weeks: A Guide to Better Fundraising for Your Small Development Shop.
What's your favorite book?
What one book has inspired you more than any other to excel in your career? Please let all of us know in the comments.