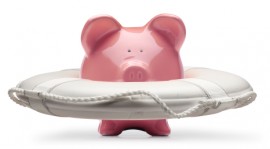 It *IS* possible to raise more money for your organization, even in this economy. I help organizations do it everyday!
Over the last two years, I've watched and listened as fundraising professionals react to the economy in a variety of different ways and I've come to several conclusions.
First, those who were running solid fundraising operations before the downturn are generally still doing well, as long as they didn't become hysterical and cut their fundraising budgets and programs. Likewise, those who were running bare bones fundraising operations before the crash are suffering worse effects now, because they were struggling to some degree even when things were good.
Second, those who have the ability and foresight and are investing in development activities, are seeing a return on their investment. I can say with confidence that ALL of my clients have seen their fundraising increase during the time we work together and afterward. Why? Because they have not given into despair, and with my help, they're putting into practice proven fundraising strategies that work!
Fundraising is simple. Success is about living the basics, day in and day out, and understanding that implementing successful fundraising campaigns takes some level of investment and commitment of time and effort.
6 Simple Strategies You Should Be Using
So what should you be doing to raise more money in a down economy?
Continue Doing What You Were Doing.
If you have a good plan, follow it. Don't cut your development budget or fire your development staff (assuming they are doing a good job). Use your development budget on planned activities. Now is not the time to cut back on development efforts.
Ask More Often.
A fact of life is: if you don't ask, you won't get. Nonprofit organizations often don't raise as much as they could, because they aren't asking as frequently as they should. Try to add ten new "asks" to your annual plan.

For example, submit grant applications to three new foundations, solicit three additional corporations to sponsor your event, ask three more individuals (face to face) for gifts, and add one bulk solicitation (snail mail or via email) to your calendar.
Ask Smart.
Do you have any events that take up more staff and volunteer time than they're worth? Are you having any type of sales – bake sales, card sales, or wrapping gifts for the holidays? If a major effort generates less than a few thousand dollars, it's probably not worth it. Cut these activities and do something else with your time and talent to raise bigger bucks.
Leverage Your Volunteers.
Remember to use volunteers as fundraisers in every step of the process. Board and non-board volunteers can be great advocates for your organization and are often better than staff in terms of their access to resources, their wide circle of contacts and their ability to successfully advocate for the organization. Use volunteers to identify, cultivate, solicit and steward prospective and current donors for your organization.
Keep in Touch with Loyal Supporters.
It's more important than ever to keep in touch with your most loyal supporters. Be sure to keep them informed about the great work you are doing and how you are using their donations. Identify your ten most loyal supporters (not only your largest donors, but also your longest) and meet with them one on one. Take them to lunch, take them on a tour of your facility, or visit them at their home or office. Update them on your program and identify specific areas of need.
Think Positively.
I have heard too many development directors say things like "it's hopeless this year" and "what's the point?" Their negativity becomes a self-fulfilling prophesy because they don't work as hard as they did in the past, and their heart isn't in it. So far, I've seen an outpouring of generosity by individuals as a result of this year's great need. By thinking positively, you keep yourself and those around you energized and motivated. It's win-win!
Ask Yourself: What Am I Doing?
It's been more than two years since the economy took a nose dive. What is your organization doing to stay in the game, ahead of the gang, and raise tons of money for your important cause?
Are you investing in continuing fundraising education for staff members?
Are you providing development training and retreats for board members and other volunteers?
Have you invested in any new fundraising program or plan in the last two years?
Have you hired any new fundraising staff members?
If you answered "no" to more than one of the above questions, let's talk about how we can jumpstart your development office and get you back on track to success.