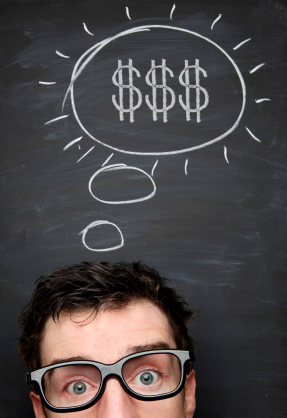 Do you want the opportunity to skyrocket your career while learning how to solicit major gifts?
Be rich: In less than a year, you can increase your organization's annual fund by 10%, 20%, 100% or more.
Be famous: In 12 month's time, you can be revered by your boss, board members and colleagues.
If becoming a rich and famous all-star at your organization sounds intriguing, then you're in luck.
I'm issuing a challenge and I hope you'll take it.
I'm dedicating this entire year of blog posts to help you successfully raise more major gifts. Whether you have never asked for a major gift before or consider yourself an expert, I know you can raise more.
Are you with me?
Your Commitment
Participating in the Major Gifts Challenge is easy. Here's what you'll do:
Read each of my blog posts (approximately two per month).
Dedicate two hours per week to taking action on the information in each post. This step is critical — if you don't take action, you won't get results. Remember, it's only two hours per week — you can do that!
Let me know how it's going in the comments so I know what's working for you and when you need more help.
That's it.
And, I promise, you'll raise more money this year and successfully solicit major gifts. But to get there, you need to follow my advice and take action.
Deal?
My Pledge to You
If you take on the Major Gifts Challenge, I'm certain that you'll be rich with donations and famous at your organization for your fundraising efforts. Not bad for only two hours per week.
If you've always wished you could solicit major gifts, but never had the confidence or know-how, this is your chance! I'm offering personalized coaching as a free fundraising consultant (via my replies to your comments) so don't miss this opportunity.
I'm going to hold your hand along the way and take you step by step through the process of major gifts. Come with me on this year-long journey. I know you'll be glad you did.
Commit Now in the Comments
It's time to commit. Let me know in the comments if you're willing to publicly take on the Major Gifts Challenge. Fame and riches await…
Invest in Your Nonprofit AND Yourself

The Major Gifts Challenge is free, but free can only take you so far…

If you're ready and willing to step up your game in a much bigger way, my new course — Mastering Major Gifts — could be the smartest investment you'll ever make in your career.

Mastering Major Gifts is a transformative 7-week online training course that unlocks your true major gift fundraising potential. Whatever nonprofit you work for will benefit from these skills for years to come.

Developed by an ACFRE (Advanced Certified Fund Raising Executive)
Based on years of experience and academic research
Provides 35 hours of CFRE credits
This post is part of Amy's Major Gifts Challenge. Read the entire series to learn how to solicit major gifts by spending just a few hours each month.