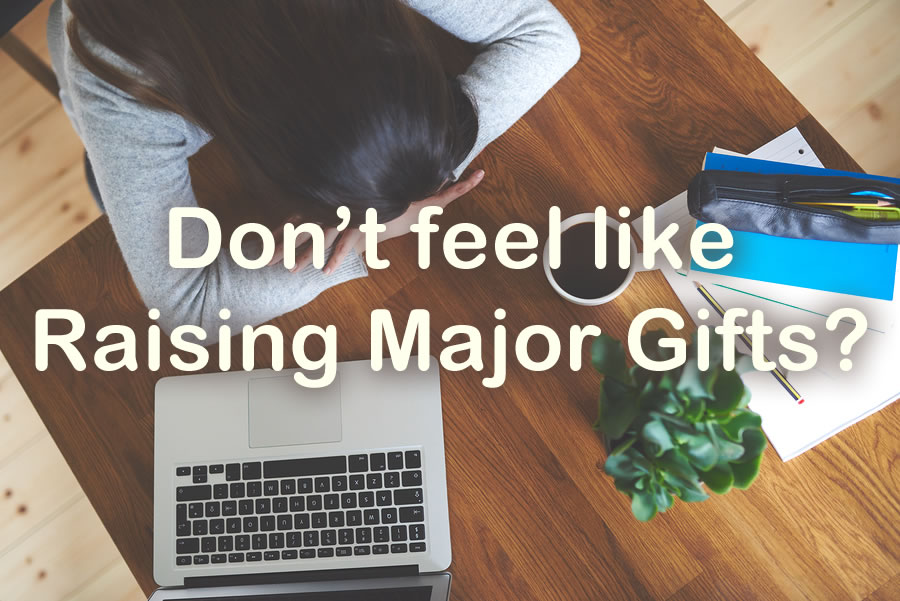 I'm going to be honest… I really didn't feel like writing a blog post today.
I have a million other things to do and I didn't get a great night sleep. I'm more than a little cranky. I seriously considered skipping it this week.
Then I thought about what I teach in terms of raising major gifts… it's all about sticking with it.
Consistency.
Accountability.
Five hours every week — even when you don't have time, have a million other things to do, or just don't feel like it.
Yes, You're Busy — But That's No Excuse
With year-end coming, you probably have more than a few things to do. And with the added pressure of raising money by December 31st, major gifts may not seem like a priority at the moment.
However, think back on your commitments — especially if you opted into the Major Gifts Challenge this year.
In the beginning of this year, I made a commitment, too. I committed to posting new content every week on my blog — to bring you best practices, new tools and techniques, and in general, keep you motivated. I pushed myself to prepare a post, even when my time was at a premium.
In the same way, you should push yourself to continue with your major gifts plan. And here are four steps you can take this week to reignite your commitment.
4 Steps to Raise Major Gifts through the End of the Year
To stoke the fire, remind yourself about how much good those major gifts will do for your cause. Here's what you can do this week, next week, and every week through the end of the year in order to keep your eye on the big prize.
1. Schedule donor visits.
Schedule one or two in-person visits per week with your top donors and prospective donors between now and the end of the year.
If you have not asked these donors for a major gift yet this year, it's time.
If they have already given generously, say thank you. And, let them know how their gift was used.
If there's someone on your list you haven't met yet, make it a priority. Ask their advice about what they love most and least about your organization, and what they would do to make it better.
2. Schedule a board retreat.
Haven't had a board retreat yet this year? There's still time to get one in. Or, schedule one for early next year. Plan to provide fundraising training and discussion in addition to strategic planning.
3. Engage your board members.
Pick one activity to engage all board members by the end of the year. Can they make thank you calls or write thank you notes? Will they sign appeal letters?
4. Send Thanksgiving cards.
Plan to write Thanksgiving cards to all your major donors. How can you make them personal and special? Include stories, thank you cards, or pictures from your clients.
What Else Can You Do to Raise Major Gifts?
What are some other things you can do this year to engage your major donors… even when you don't feel like it?
Share your ideas in the comments below.