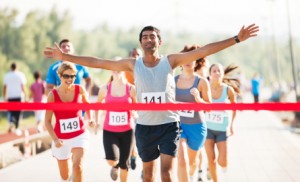 At the end of each year, it's important to reflect on how you did in asking for major gifts, measure your results, and review what could be done better or differently during the next year.
And, don't forget to celebrate any success you had!
Did you receive your first ever major gift this year? If so, it's time for a celebration! That could mean an office pizza party or an evening out with friends, but remember to acknowledge and rejoice in your success.
Measuring Your Major Gifts Success
As each year draws to a close, it's time to ask yourself: did you follow through on your commitment to do the Major Gifts Challenge? How far along did you get?
Ask yourself the following questions:
If you answered "no" to any of the above, where did you get stuck? And, why?
If you're ready to make the ask, but haven't had the courage or made the time, what's stopping you?
It's time to tally up the good with the bad. Judge yourself, not only on dollars raised (although that's certainly an important measure), but also on meetings with donors, gifts for which you've asked, relationships strengthened, etc.
Action Item of the Week — 2 hours or less

It's not too late. There's still time to raise major gifts this year. Pick up the phone — call your two best prospects, and ask for a meeting in the coming weeks. After that, call two more.
Crossing the Finish Line of the Major Gifts Challenge
The major gifts challenge is officially over, and I'd love to hear your feedback.
Did it help you raise major gifts? If not, why not? Do you need additional information or support?
Help me understand where you got stuck and I'll be able to help you even more in the months and years ahead. Together, we will raise the biggest gifts you've ever raised!
This is the final post in Amy's Major Gifts Challenge. Read the entire series to learn how to get major gifts by spending just two hours each week.