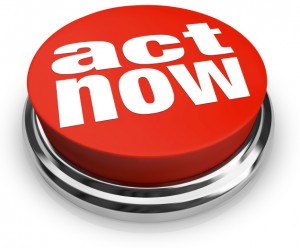 Hopefully you spent some time in the Major Gifts Challenge cultivating your donors. If not, there's always time to start now.
So, you should be ready (or almost ready) to ask your major gifts prospects for a gift. Before you know it, it will be the end of the year, so you need to ask sooner, not later.
Some people won't be available to meet right away, so begin scheduling your meetings now. Fall is the perfect time to make the ask.
Pick up the Phone – It's Time to Act
If you truly accepted the Major Gifts Challenge and are serious about raising major gifts, then you've come to the moment of truth. It's time to ask — now or never.
Action Item of the Week — 2 hours or less

Schedule your ask meetings.

If you have not already done so, call up your top three prospective donors and schedule "ask meetings" with them. (After you have meetings with them, it's time to call your next three, and so on.)
When calling them, explain that you'd like to follow-up on your previous discussions, and talk specifically about how they might be able to help your organization, project, or program. It should not be a secret why you're coming.
If they ask you if you're coming to ask them for money – say yes! This is a relationship, and relationships are built on trust and honesty. The donor should not be surprised when you ask them for a donation.
Should they ask you if you're coming to ask for money, here's how to respond:
"Yes, I'd like to come discuss how you might invest in our organization in a bigger and more meaningful way."
Once you've secured a meeting date, time, and place, you're halfway there.
Who Attends the Ask Meeting
It's ideal to go to the ask meeting with two people from your organization, preferably the executive director and a board member. However it's critical that the prospective donor has already met anyone who comes to this meeting, preferably more than once.
Remember, this is about relationships, so the person who asks should have the strongest relationship with the prospect. At times, this is the development director.
In the best case scenario, a board member will ask. This is called peer-to-peer fundraising. That's because the board member, or volunteer, has no financial stake in the organization, except what they have personally donated. They have already invested their time and money and are asking the donor to do the same.
Where to Hold the Ask Meeting
The meeting should be conducted someplace quiet. In other words, this is not a good time to have a meeting at a restaurant.
Hold the meeting at the donor's home or office, or wherever is most convenient for them. Some will come to your office. But, it should be somewhere you can have a quiet, confidential conversation.
Preparing for the Ask Meeting
It's extremely important to prepare, practice, and role play. Don't assume that the asker knows what they are doing.
Know in advance, and practice:
Who will open the meeting?
Who will ask?
Who will close the meeting?
And never leave the meeting without a follow-up plan.
What Language to Use to Make the Ask
The one question I get asked the most about face-to-face fundraising is, "How do you actually ask?"
So here's some ask language for you to try. Practice it in the mirror, until it feels more comfortable. And, adjust it to suit your asking style and your donor.
"Mary, you've been such a great supporter of this organization, and we want to thank you again for that. As you know, the organization needs more funding to accomplish X-Y-Z goals that we've been discussing."
(If a board member is asking, they should state at this point that they've given what they can, and then continue…)
"I'm here today to ask you to consider a gift in the range of $5,000 to support the After School Program."
Notice the language:
Consider a gift
Range of $5,000 — a specific amount
After School Program — a specific program or service
Be sure to include a specific amount to support a specific program or service (even if that specific thing is unrestricted operating — say overall support of the organization).
Lastly, know how to respond to "no" or "maybe".
Still have questions? Let me know in the comments.
This post is part of Amy's Major Gifts Challenge. Read the entire series to learn how to solicit major gifts by spending just a few hours each month.