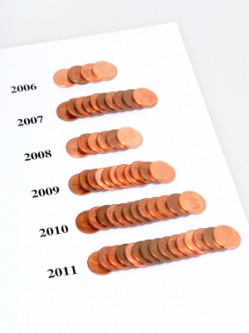 Have you ever been confused when people mention their annual fund, campaign or appeal? What exactly are they talking about?
Your annual fund or campaign should be a year-long, multi-pronged effort to raise funds for your annual programmatic and operational needs. Annual campaigns often include traditional appeal letters (close to the holiday season and other times throughout the year,) electronic solicitations, phone-a-thons, and personal, face-to-to face solicitations.
This fundraising effort takes place annually and funds are not for capital needs (capital needs are long-term things like endowment or buildings).
Raising More Money Through Your Annual Fund
What does your annual fund effort consist of? If it's just a holiday appeal letter, you need to do more.
Appeal Letters
I encourage my clients to mail as often as they can afford to (this includes financial resources, as well as time). For most small to mid-sized organizations, this should be about one to four times per year. At a minimum, you should be sending an appeal letter in November for your year-end appeal. A spring letter is also appropriate as many people give multiple times per year or need that second letter as a reminder to give.
Appeal letters should contain the following:
An individual success story, featuring someone who was helped by your organization that year.
Attention-grabbing facts or figures.
You want ATTENTION-grabbing — not: "We served 403 people this year" — boring! And, who cares? More like: "Did you know that 1 in 4 women are abused each year? That means one of your neighbors, someone in your family, and several of your friends have been touched by abuse."
Electronic Solicitations
More and more, organizations are receiving significant donations online. Integrate email solicitations into annual campaign solicitation plan for the year. Be sure you are collecting email addresses and have a good system for sending emails to you list.
Emil solicitations should:
Accept credit cards online. Provide a way for people to give by including a "donate" button on every email you send.
Never be longer than a single screen. Don't make people scroll down. For longer articles and more information, have people click links – drive them to your website.
Have interesting subject lines. You must find a way to make busy people open your email.
Phone-a-thon
While this option is not right for every organization, you may want to consider a phone-a-thon as part of your annual campaign this year. Some organizations choose to coordinate their one-day phone-a-thon in house, or to hire a professional firm to coordinate the calling. When done right, phone-a-thons can give a very significant boost to your annual fundraising results.
Individual Solicitations
Annual campaigns are primarily made up of individual donors, who are mostly solicited from a distance. It's important to personalize your campaign as much as possible, including asking some of your best donors and prospects for their annual gift in person.
Want to Raise Even More?
To push your fundraising even further, see these related posts:
What do you do for your annual fund? I'd love to hear from you in the comments about what's been successful and even your failures. I reply with feedback to each comment I receive, so don't be shy!