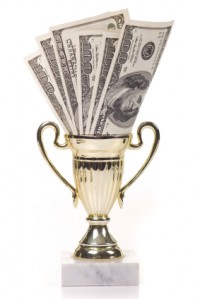 Congratulations on making the commitment to take the Major Gifts Challenge!
If you missed the first post, click the link below:
Be Rich and Famous: Take the Major Gifts Challenge
Are you ready to start raising major gifts?
Good!
What is a Major Gift?
The first step is to define what a "Major Gift" is for you. The term major gift means something different at every organization.
For example, when I started my career in fundraising at the battered women's shelter, we rarely received gifts (excluding grants) over $1,000. When we received our first $10,000 there was cause for major celebration around the office — that was a MAJOR Gift. We considered any gift from an individual over $5,000 a major gift.
On the other hand, when I worked at Rutgers University many moons ago, we considered a major gift any gift over $25,000. And, during the same period of time, just down the road from Rutgers was Princeton University where Major Gifts were $100,000 or more. And I imagine by now it's $1 million or more.
If you're at a small organization, just getting started with individual giving and major gifts, it would be ridiculous to hold you to the standards of Princeton University.
So, what's considered a major gift at your organization?
Remember major gifts don't have to be over six figures to be considered major, and they aren't only for capital campaigns. There's no better way to skyrocket your annual fund than to infuse it with some major gift power.
Action Item of the Week — 2 hours or less

Determine what constitutes a major gift at your organization.

Step 1: Check your database (donor records) to identify your top five individual donors (not foundation funders). What is the range of your top five donors' gifts? Is one of the gifts significantly more than the other four? For example, four are $1,000 each and one is $10,000 or more?

NOTE: You're working to expand individual giving, so don't include foundations on this list. If you have donors who give from their family foundations, but you don't need to submit grant applications, it's fine to include them on the list (they're really individuals who are giving through a foundation).

Step 2: Pick an amount that you think would be a good major gift level as a result of step 1 — let's say $10,000. Then, run a report to determine how many people have given at that level or above (cumulatively) in the last twelve months. Depending on the number of donors you have, if there are a lot of people who have given over that amount, it's too low. If you don't have any donors at that amount, then it could be too high.
A Donor Database is a Must
No database?
It's time to start one.
A database is a computerized method of keeping donor records, and if you're going to be serious about fundraising, you need one. That's not to say you need expensive fundraising software. Microsoft Access is just fine. (By the way, Microsoft Excel is NOT a database, for those of you using it as such.) I discuss donor databases in both of my books if you need additional info.
Choosing Your Major Gift Amount
Remember, fundraising is an art and a science. In this case, there are no hard rules to determining what you consider a major gift at your organization.
If you're still not sure, here's a good rule of thumb: An appropriate level for a major gift is an amount where approximately five percent of your donors can (and will) give at that level. It should be high enough that when you receive one, it's cause for celebration at your office. But, it shouldn't be so high that you never receive one.
After you've identified an appropriate level for major gifts, have a discussion with your executive director, development staff, and key board members to ensure that everyone is on the same page.
Be realistic and yet optimistic when picking an amount. If you've never received a gift of over $1,000, then $25,000 is too big of a stretch. In that case, you should probably start with $5,000 or less.
You'll see later this spring that the gift amount and how much you can raise depends largely on who you have in your donor pool. We'll get into that later.
Recap: Set Your Major Gift
So for this week, determine the amount you will consider a major gift at your organization. The number doesn't need to be set in stone – you can always raise it once you start to see some success.
After determining an amount, please share your amount in the comments. Tell us how much you consider a major gift at your organization and how you came to that decision. Posting your number in public will solidify it for you, as well as help us celebrate when you get your first gift of that size this year!
If you have other ways of determining how much a major gift should be, please share them in the comments. This is a dialogue among nonprofit professionals, so your own expertise is welcome.
This post is part of Amy's Major Gifts Challenge. Read the entire series to learn how to solicit major gifts by spending just a few hours each month.