How Are You Treating Your Donors? Do You Really Know?
Over the summer, my good friends at Bloomerang conducted an experiment to see how nonprofit organizations treat their donors. The results were intriguing…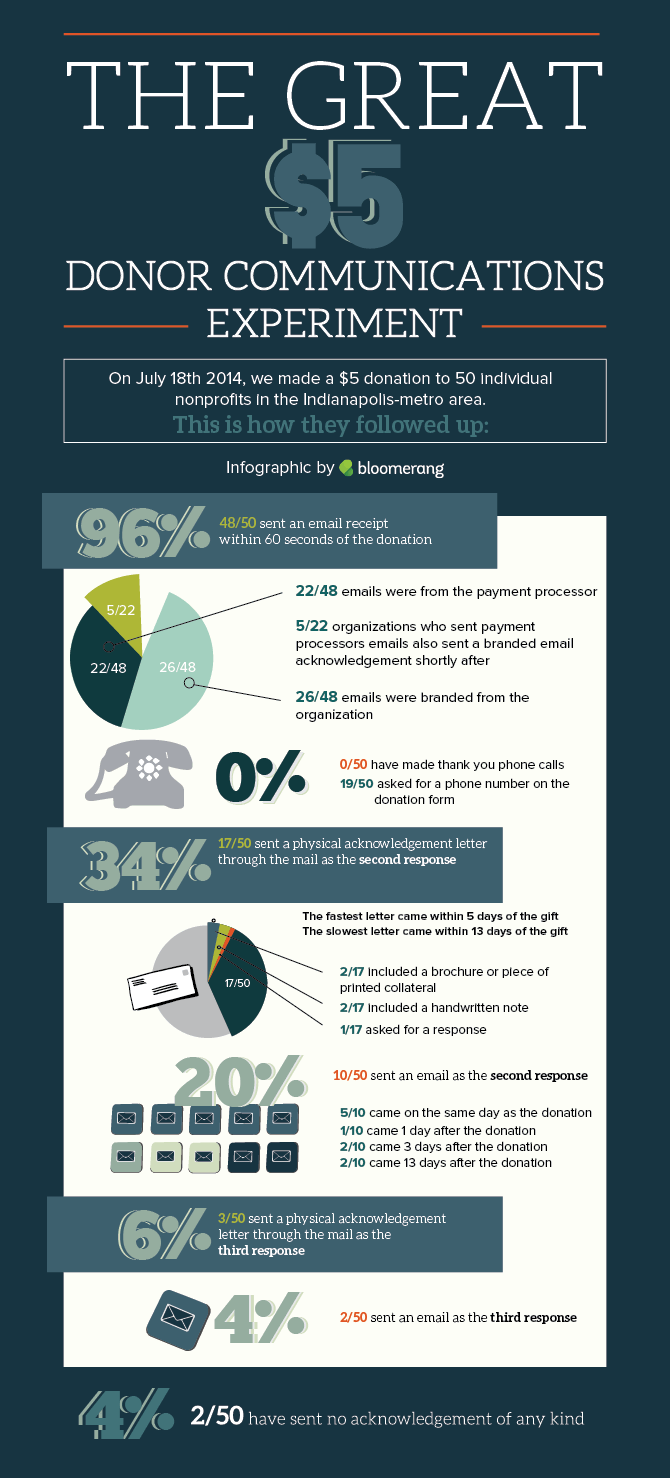 How does your organization stack up?
Discover How Well You Treat Your Donors
It begs the question, how do you treat your donors?
And, as a donor, how do you want to be treated?
And lastly, what's the difference between how you would want to be treated and what you're actually doing?
The Golden Rule
As you probably know, the "Golden Rule" states you should do unto others as you would have them do unto you. So when was the last time you asked yourself the following:
Are we treating our donors the way we'd want to be treated?"
I asked this question the other day when I was facilitating a board retreat.
The board members said there that they loved getting handwritten notes — either in addition to a typewritten thank you note or, especially, as a separate note card. Most had never received a thank you call from any organization they had given to.
Testing Your Own Processes
When was the last time you made a gift to your own organization, through the internet and through the mail?
This is the best way to test your own organization's response systems and mechanism.
Do the automated email responses look the way you want them to?
How fast do letters actually get sent?
How much does someone need to give before you add personal notes to letters?
Do first time donors get different letters than repeat donors?
Do donors receive thank you calls? How long after they made their gift?
Of course, I recognize that this is all limited by time and resources at your organization. But if you're going to remain competitive and relevant, compared with other organizations, what will you do differently or better to ensure donors give to your organization, year after year?
A Sample Stewardship Plan
Acknowledgement Process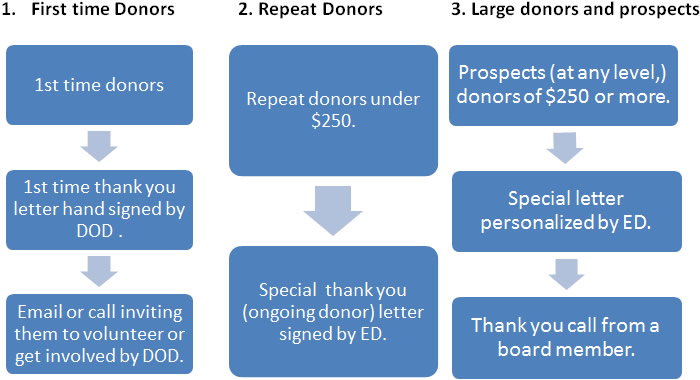 First time donors will receive a special 1st time thank you letter, hand-signed by the Director of Development (DOD), and then a follow-up email or phone call by DOD.
Repeat donors under $250 will receive a special, ongoing donor, thank you letter signed by the Executive Director (ED).
All donors over $250 (including first time donors, and special prospective major gift donors) will receive a special letter, personalized by the ED, and a thank you call from a board member.
All acknowledgements should take place within one week (5 working days) of the arrival of the gift.
Stewardship and Year-End Giving
As you prepare for year-end giving, I suggest you get your stewardship systems and practices in good working order. That means treating donors as you would want to be treated, and more.
I realize this post has more questions than answers, but they are important ones. Be sure to ask them of yourself and your organization.
So how does your organization stack up? Tell me about it in the comments.