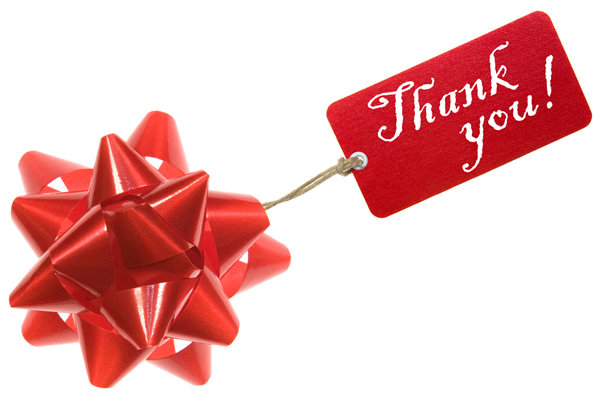 November is all about gratitude.
Every year we learn more and more about how gratitude impacts giving.
One of the main reasons that donors give (consciously or otherwise) is to feel good. When we (as nonprofit staff and board members) express genuine gratitude to our donors, they feel good about giving and are more likely to give again.
It Pays to be Grateful… All Year Long
Thanksgiving is a great reminder to be grateful for what we have, but you want to be grateful all year round.
A few months back, I was speaking at a conference and we discussed gratitude. I asked the attendees to talk about the different ways they expressed gratitude to their donors with the hopes of finding some new and creative techniques.
Well… I hit the jackpot!
Thanking Donors with the Perfect Holiday Gift
Do you ever wonder what you can give your donors — especially the ones who already have everything? If so, you're in luck!
A woman named Shelley Hanisch got up and spoke about a gratitude "coupon booklet" she once created for an older donor. I'd like to send kudos and my gratitude out to Shelley, who is the Major Gifts and Planned Giving Director of the Sioux Empire United Way in South Dakota, for sharing this amazing idea.
What's a Gratitude Coupon Booklet?
The coupon booklet Shelley created for her donor was tailored specifically to him. He was an older gentleman. I imagine he was kind and generous, and probably a little lonely and maybe even a bit bored.
The booklet contained a monthly coupon for something Shelley would do for this donor each and every month for the coming year.
December: Build a snowman in your yard.
January: Homemade casserole delivered to your home.
February: Bring over a pot of homemade soup.
March: Pick you up for lunch at a mystery location.
April: Hop on over with an Easter basket.
May: Pick you up and drive you to a sculpture garden.
June: Homemade rhubarb pie.
July: A basket of vegetables from my garden.
August: Pick you up for a trip the ice cream parlor.
You get the picture.
If it were my coupon booklet, I might have also included some activities at the organization, like:
September: Sit with you at our gala.
Or
October: Pick you up for a special donor reception.
Of course, the monthly coupons were based on things Shelley knew her donor loved, which made it even more thoughtful and special.
In fact, this gift was such a hit that the donor carried the booklet around with him for months to show people, giving the organization even more positive exposure.
I realize you can't do this for every donor, but you might consider it something extra special for your top donors. And you may notice that all of these "gifts" involved little or no money.
More Ways to Thank Your Donors
Check out these posts for some other creative ways to express your gratitude to your donors:
Have you ever tried something creative like this coupon booklet? Has this inspired you to think of a new way to thank your donors? Share your ideas and stories in the comments.