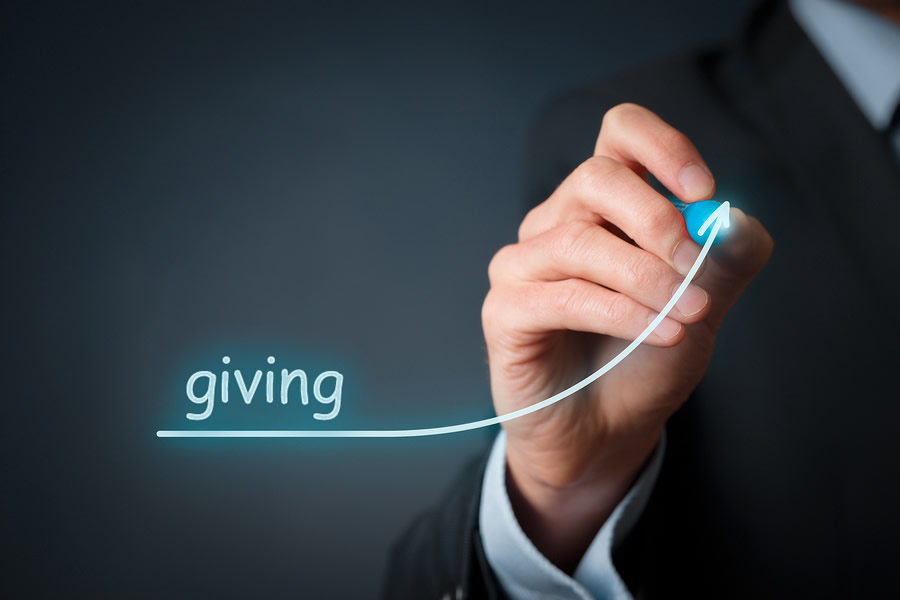 Good news for fundraisers everywhere. Giving is up!
According to Giving USA's 2016 report, which was released last week, giving is up across the board. Americans gave over $373 billion dollars in 2015, breaking the record set in 2014.
This might be hard to hear, but if your organization didn't meet its goal, it might be you. If your board members believe people aren't giving or that fundraising is down, it's them. The economy is no longer any excuse.
The fact is, people are giving — and more generously than ever before.
The biggest increase in giving came from individuals. That's great news for those of you working to raise major gifts. And, gifts from individuals during their lifetime and via bequest still account for around 80 percent of total giving.
More Good News!
Health and human services, as well as public benefit charities both saw increases of over 4 percent. Yes, religious and educational institutions still receive the lion's share of contributions, but there's good news, even for smaller organizations.
See the numbers for yourself in the following infographic from Giving USA:
[Click to view full-size]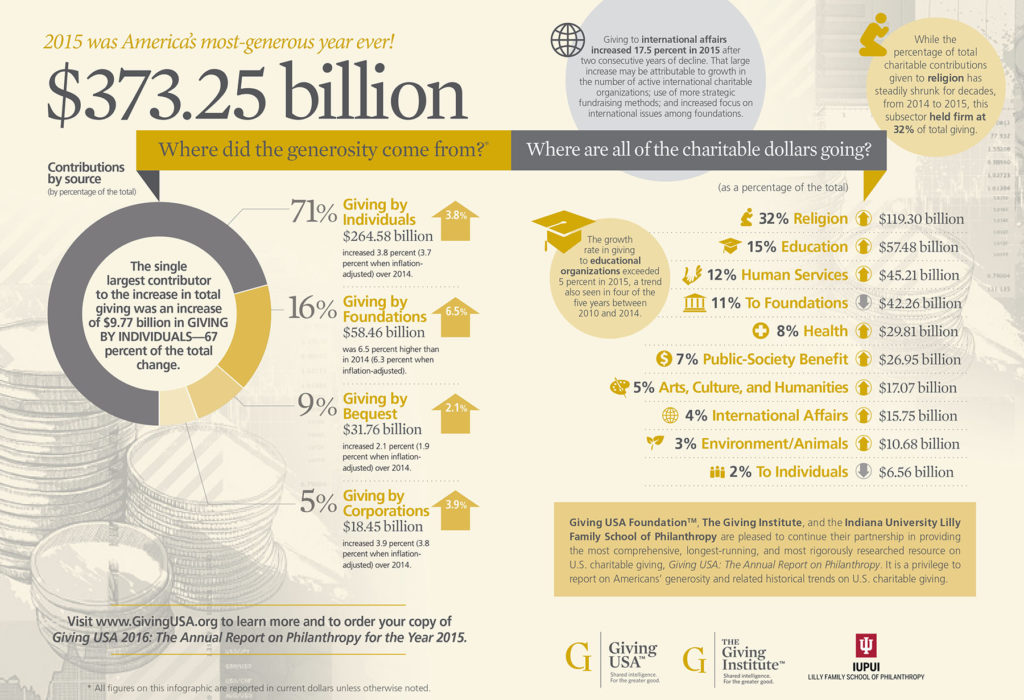 Source: Giving USA
4 Ways to Ride the Giving Wave
Here are four simple ways you can use the Giving USA Report to raise even more money next year.
For a great way to share this information with others, browse various Giving USA products that showcase the results of the 2015 report.
1. Show your board members the infographic.
Use the Giving USA infographic above to begin a discussion about your fundraising for the coming year.
2. Change your scarcity mindset.
Set big goals for next year. Other organizations, just like yours, are seeing increases of 4 percent or more. You can, too!
3. Invest in training.
If your organization didn't see an increase in giving last year or the year before, there's likely a reason why. It's time to do something different, starting with training your fundraising team (including the executive director and board members).
4. Join the #MajorGiftMovement!
The Major Gift Movement is about dedicating the necessary time and resources to raising major gifts. Make the commitment today and join the #MajorGiftMovement!
How will you use this to propel your fundraising next year? Share your thoughts in the comments.