If you've been following the Major Gifts Challenge, we're getting closer and closer to asking for a gift.
And if you haven't been following along, it's never too late to start!
Let's take another quick look at the four stages of the fundraising cycle.
1. Identification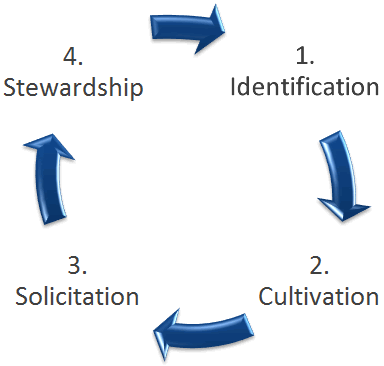 Congratulations! You've already identified your top prospective donors.
2. Cultivation
Building relationships with prospects and engaging them with your organization so they feel more inclined to support your cause.
3. Solicitation
The moment of truth: The Ask.
4. Stewardship
The follow up process – more than just a simple "thank you."
Cultivating Major Gifts
The next step before asking for a major gift is to cultivate the people on your list.
In the previous weeks, you should have created a cultivation plan for your prospective donors and, if you haven't already done so, started working your cultivation plan.
The goal of each cultivation activity is to move you one step closer to asking for a Major Gift.
With each cultivation activity you do, ask yourself, "How is this bringing me closer to asking for a gift?"
What did you learn about a donor and how will that help you secure a gift?
Did you find out what motivates them to be philanthropic?
Did you find out what they love most about your organization, and which area they would like to see grow or personally support?
Action Item of the Week — 2 hours or less

Take your cultivation plan and put it into practice.

Start by taking your top 10 prospects (from your prospect list) and complete one cultivation activity for each individual, from their cultivation plan.

Who will you call for a meeting? Who needs to be invited for a tour? Go ahead and schedule in-person meetings with at least 5 of your top prospects for the next two weeks.
I just finished presenting at the International Association of Fundraising Professionals (AFP) Conference in San Diego. In my speech, I mentioned Brian Tracey's book, Eat that Frog.
The premise of the book is that if you do your most dreaded task first (eating a frog) then you can be much more productive.
You know you need to cultivate your prospects before you can ask them for a major gift, so don't delay, cultivate today! Eat that frog!
Recap: Begin Putting Your Cultivation Plan into Practice
As always, I encourage you to post your comments and concerns. My role in the Challenge is to hold your hand and guide you through each step. So share your progress with me and I promise to offer my professional advice and words of encouragement.
Leave your comment below — I read each and every one and I'll leave no question unanswered.
This post is part of Amy's Major Gifts Challenge. Read the entire series to learn how to solicit major gifts by spending just a few hours each month.