Welcome back to the Major Gifts Challenge! If you're unfamiliar with the Challenge, check out the introductory video here.
In the last few videos, you've learned about creating a donor pipeline and narrowing down your list of donors.
But what if you don't have a database full of donors to start from?
No problem.
Friendraising to the Rescue!
If you're identifying donors for the first time, you're going to do friendraising.
What your organization needs right now is a lot of friends. Friends come through when you need them most. They lend a hand, provide support, and often bring other friends to the party.
The obvious starting point is to ask board and staff members for the names of their contacts. Unfortunately, whenever this happens, the usual response is … *crickets* In others words, you get nothing — dead silence.
So instead of simply asking for board members to connect you with their networks, try the following.
Identify Friends and Potential Donors
Although board members can be hesitant about asking their friends for money, people give to people — specifically, the people they trust. That's why peer-to-peer fundraising is so successful. Fundraising is built on relationships.
It all starts with a meeting.
Call a meeting of board and staff members. I frequently do this exercise when I'm facilitating a board retreat.
Draw a diagram on a flip chart. Each person has a blank sheet in front of them with a center circle and spokes off it.
Start with the same on the flipchart -– a blank circle in the center and spokes coming off it like a wheel. Ask participants to write their name in the center circle (on the flipchart, write "you" or "me").
Ask participants to come up with big categories of people they know… give them the example of "friends and family," and ask them to keep going. You'll end up with something that looks like this: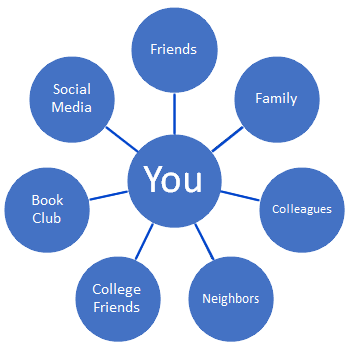 Now they can decide whom to solicit.
Once they have completed this exercise, it's time to identify one person (or couple) from each category who they will cultivate and solicit for your organization this year. From "friends" it could be their best friend, John. From "family" it could be Aunt Sally.
This way, they don't need to be overwhelmed by the idea of handing over all their contacts. They should identify those they believe will be interested in your mission and have the capacity to make a donation.
A Friendraising Plan that Works
Once each board and staff member has a list of five to ten people they will work with this year, it's time to make a plan.
First, determine how contacts will be engaged:
Take a tour
Meet the executive director
Receive newsletters and emails with personal notes
Meet clients (if appropriate)
Next, decide how they will ask for financial support:
Invite them to your fundraising events
Ask them for sponsorship
Send an appeal letter with a personal note
Sit down over coffee to ask them for support
While you may not be ready for raising major gifts, this is the perfect way to begin identifying donors for your organization. Always remember: slow and steady wins the race!
Now let's look at where you'll want to spend your time this week. This week's Challenge Yourself Action Item involves three steps.
Challenge Yourself Action Item

If you've already got a healthy list of donors, you could skip this week's action item. However, it's always great to identify new donors and get your board members involved.

Step 1: Call a meeting.

Call a meeting of board and staff members. Let them know this meeting is going to jumpstart your major gift fundraising efforts. An annual board retreat is the ideal setting.

Step 2: Decide who to solicit.

Using the diagram method described earlier, determine who each board and staff member will work with. Each list should be between 5 and 10 names per board or staff member. You don't want to overwhelm them with too many names.

Step 3: Determine a plan for your staff and board.

Work with your staff and board to determine how they will engage each of their contacts. Then decide how they will ask them for financial support.
Going Further with Major Gifts
Participants in my online course, Mastering Major Gifts, are given several additional exercises like the one shared in this post to do with their board members. These exercises, often carried out at board retreats or your regular board meetings, will further help your board members with friend-raising and other activities to supercharge your organization's capacity to raise major gifts.
If you truly want to engage your board members and create a culture of philanthropy on your board, Mastering Major Gifts is just what you're looking for!
Act, Comment and Participate
Now it's your turn to share. What have you tried to identify new donors? What has worked well and not so well? Share your ideas in the comments so everyone taking the Major Gifts Challenge can benefit from what's worked best for you.