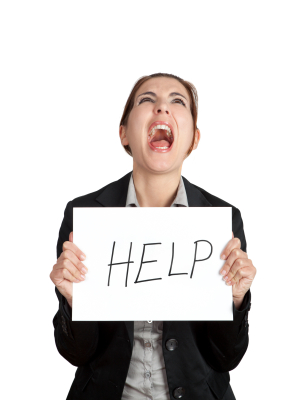 Day in and day out, you're working for your nonprofit. Do you find yourself loving your job as you once did, or hating it?
Ask yourself these three questions:
Do you hate your boss?
Does fundraising make your miserable?
Does the thought of your next board meeting make you wish you had a root canal instead?
When I hear these complaints from nonprofit professionals it makes me sad, because part of the compensation from working at a nonprofit is supposed to be intrinsic value.
If you answered yes to any of the above questions, think about why you are in a job you hate, and what you can do to make things better.
Changing Your Job vs. Changing Your Mindset
I am NOT telling you to quit your job. On the contrary. I hope for the sake of your mission, your clients, and your donors, that you'll stay for a while and try to make things better.
It could be time for a job switch, but I have yet to come across a nonprofit with no issues, so think twice before you decide to jump ship.
I want you to think back to the reason you started working in nonprofits in the first place.
Why are you in the business of philanthropy? What still applies?
Are you passionate about your mission? Do you love the clients you serve? Are you helping to make the world a better place?
How can you make your job, as well as the entire culture of your organization better?
As we launch into summer, take some time off and do something for yourself. Splash in the pool or in some puddles. Take time to smell the flowers. Get to a farm and pick some fruit. Enjoy the outdoors. Leave your iPhone or BlackBerry behind.
Going Further
Check out this post by Tony Martignetti:
If You're Gonna Give, You Gotta Take: Time Off
And here's another good one by Amy Newmann:
57 Ways to Spread Kindness and Brighten a Day
These are just a few suggestions to refresh and rejuvenate. Have any other ideas to restore your fundraising spirit this summer? Please share in the comments.