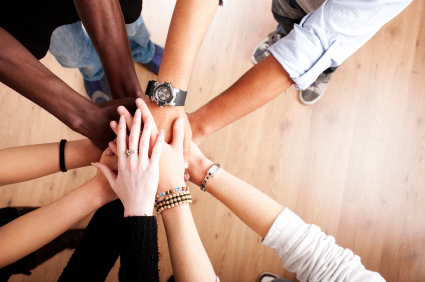 Fundraising is a team sport. Whether you win, raising lots of money for your cause, or lose depends a lot on who's on your team and how you play together.
Creating a Winning Team
Do you have a winning fundraising team? Consider your teammates and their skills.
Your Executive Director
Do you have an executive director who is committed to fundraising? Are they part of the process and understand their important role? The executive director should be the face and visionary of the organization. He or she should be meeting with donors on a regular basis and developing relationships with them.
Members of Your Staff
Do you have fundraising staff members? Whether you are a staff of one or several development professionals, it is important that everyone does their job and more. Nonprofits don't function with the attitude "that's not my job." Everyone pitches in before a big event, a major ask, a pending grant deadline, etc.
Your Board Members
Do you have dedicated and passionate board members? Have you provided fundraising training and specific expectations? Are they involved in the process? Do you have 100% participation? To get the absolute best from your board members, follow these 8 simple steps to recruit and retain great board members. I also recommend reading Boards: The Secret to Successful Fundraising.
Is Anyone Accountable?
The single most powerful tool I've found to keep a development team on track and successful is accountability.
Whenever I work with clients or speak to groups, I encourage them to have a weekly development team meeting. This is not your typical development meeting where everything and anything is on the agenda. This is a quick meeting (15 minutes or less) with the same two agenda items each week.
Agenda item 1: What ask(s) did we do last week and how did they go?
Agenda item 2: What ask(s) is coming up and who is responsible and what needs to happen to ensure success?
This meeting will ensure that you are asking for gifts on a regular and consistent basis – one of the sure-fire ways to increase your fundraising income.
If your organization doesn't have any fundraising staff members, and no board members want to participate (even by phone) in the weekly team meeting, then the executive director should meet with an administrative assistant. In a small office, the administrative assistant will be critical to the fundraising process, whether it is by scheduling appointments, mailing appeals, generating thank you letters, etc.
For more about the specific roles of each team member, see my related post on How to Fundraise as a Team.
What's Your Strategy?
How does your team play together and ensure fundraising success? What will your team be doing differently this year to raise more money? Please share your thoughts in the comments.