A board member expectation form will help your nonprofit's board members understand what's fully expected of them — and that will make things easier for everyone in the long run.
You'll want to include committees they will serve on, specific dollar amount they will give, which fundraising activities they will participate in, etc.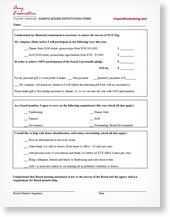 Click to View »
Use this sample board member expectation form as a guide to create a form for your own organization.