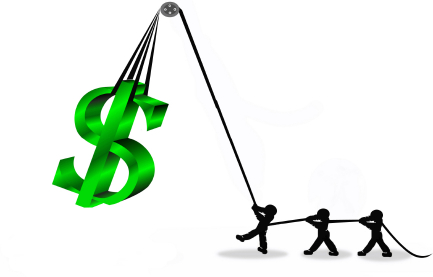 You may have heard the expression: Fundraising is an art and a science.
As much as I wish there was an "ask amount formula," unfortunately there isn't.
5 Rules to Determine Your Ask Amount
Determining how much to ask for could be the most confusing part of the entire major gift process. So here are some rules of thumb to live by:
2 and 10 Times the normal.
Start with an amount in the range between two and ten times their normal annual gift. For example, if you're speaking with someone who normally gives $1,000 per year, then your major gift ask should be between $2,000 and $10,000.
Consider their lifestyle.
Consider what you know about them from the cultivation process. For example, what do they do for a living? Is there any other household income (what does their spouse do)? What do their expenses look like? Are they putting kids through college?
Consider your needs.
What do you need? Are you asking for computers? A new roof? Staff salaries? Your ask, should, in-part, be based on your needs. Even if they only end up giving a fraction of what you need, ask for what you need.
Factor in their engagement.
How engaged is the person? Someone who is highly engaged and considers your charity to be their number one priority is likely to give more. How high is your charity on your donor's priority list?
Ask around.
Talk with board and staff members who know the prospective donor to help determine what they might be able to give.
Double Your Asking Amount
Once you've settled on an amount you feel comfortable asking for, double it!
Since you're probably uncomfortable asking, you're likely to pick a low amount. These are your best prospects, and you're asking for major gifts, you might as well go for it.
Remember, the major gifts process is a type of a negotiation, and there is generally wiggle room. There is no exact right amount. So there's no sense in stressing over getting the amount exactly right — you won't.
If you ask for too little, you can always ask for more next year.
If you ask for too much, the donor will tell you so, and you can discuss what an appropriate amount might be.
Another option if you ask for too much is to ask them to consider that amount as a pledge over two or three years.
Get Specific
The most important point is to ask for a specific amount. It's the start of your conversation about the person's gift.
And always be genuinely appreciative of any amount. Although you may be disappointed if the gift is smaller than you had hoped, think of this as the beginning. If you are truly grateful, there are likely to be more gifts in the future.
Action Item of the Week — 2 hours or less

Using the rules of thumb listed above, determine the ask amount for each of your prospects. Remember, be specific!
Please share (in the comments) how much you have decided to ask your top three prospects for and why. If you're still having a hard time determining an ask amount, let me know the details and I'll do my best to help.
This post is part of Amy's Major Gifts Challenge. Read the entire series to learn how to solicit major gifts by spending just a few hours each month.