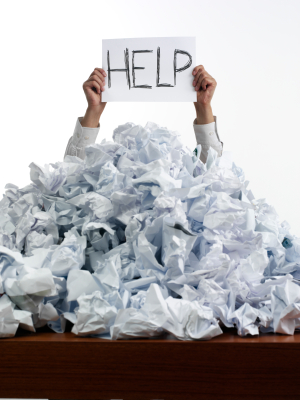 In my most recent newsletter (join my list at right and you'll get my eBook too), I asked about your biggest challenge with regards to fundraising. Thank you to everyone who responded, and I hope some of the answers below will help with your challenges.
I got a wide range of answers, but I think it boils down to the fact that fundraising can be difficult. Here are some suggestions to make it much easier.
Connect With Groups
Fundraising can be difficult because staff are often working in one-person development shops and feel isolated and alone.
If this is the case for you, reach out to groups like the Association of Fundraising Professionals or other professional associations in your area. Attend their meetings and compare "notes" with colleagues in the field. Schedule a monthly phone call with some of these colleagues or a mentor to discuss current challenges and frustrations.
You know the saying, more heads are better than one. It could help in surprising ways if you hear what others are doing to tackle some of the challenges you're facing.
Seek Help From Your Board
Fundraising can be difficult because the board isn't helping. I hear this complaint frequently. My immediate response is to ask the following:
Why aren't they helping?
Have you provided them with regular and ongoing fundraising training?
Do they really understand what they're supposed to do and do they have specific action steps?
Furthermore, do they have adequate knowledge and materials?
Your board can be an incredible asset when you steer them right. So how should you guide them? Here are 8 Ways Your Board Can Fundraise Without Asking.
Leverage Your Time and Resources
Fundraising can be difficult because you don't have the time or resources you need. Time and resources are always a challenge for effective fundraising, and it boils down to better managing your time.
The most effective time management tools I've ever learned are:
Keep daily to do lists.
Don't play on the internet, gossip at the water cooler or take part in other time wasters until your list is complete.
Limit the number of times you check your email each day.
Don't look at it or respond each time a new one pops up. This can be a huge time waster, because it takes you a few extra minutes to refocus on the task you were doing when you were interrupted. Note that the same can be said of checking Facebook and Twitter.
Do away with unnecessary staff meetings whenever possible.
Need I say more?
As for resources, it's important to have the right tools necessary to do fundraising whenever possible.
When starting a new job, make sure there is a budget in place for projects you plan to do – for example money for printing and postage costs for your appeal letters.
When creating a budget for the year, be sure to include all fundraising activities such as special events, appeal letters, website upgrades, etc.
Show your boss the return on investment whenever possible. This will help make the case for your investment of limited resources.
Use Creativity to Build Relationships
Fundraising can be difficult because developing relationships with prospective donors is often difficult.
Be creative in how you go about building relationships. Take advantage of social media outlets such as Linkedin, Facebook and Twitter to identify pre-existing relationships between people you already know and those you would like to know.
If that's not enough, try sending a hand-written note to the person you're trying to meet. That will certainly stand out among a sea of emails and bulk mail. Be sure to include your business card too, with email address and phone number and the reason for your note. Be crystal clear that you would like to introduce this person to your organization and find out more about his or her interests.
So Many Challenges…
It's true that there are so many challenges with fundraising — the list could go on and on. I've tried to address a few of the most stubborn issues here.
Tell me about some of the other fundraising challenges you face in the comments.