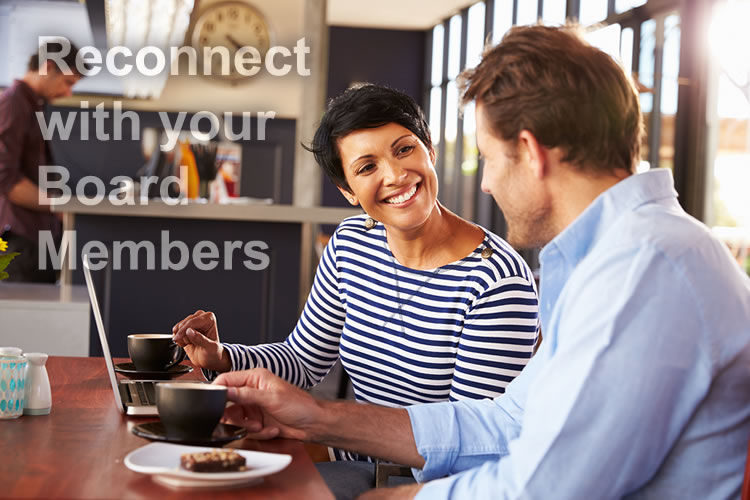 Is summer a slower time in your office? It might be the perfect time to reconnect with your board members. This post is a short, quick read to help you do just that.
Think about how often you meet with each board member individually. It's important to do so at least once a year, and if you haven't done so in a while, now's the time.
Meet with Your Board Members to Reconnect
Offer to take each board member out to breakfast, lunch, or dinner — or even meet them at their home or office for a quicker meeting — whatever is most convenient for them.
The purpose of the meeting is threefold:
1. Express Gratitude.
You will want to thank them for their board service, as well as for any gifts they have made over the past year.
2. Check In.
Find out how they're doing personally and on your board. Don't be afraid to ask questions about their personal life.
What are their summer plans?
How is their family?
How is work going? (etc.)
Also ask about how they feel your organization is doing, as well as how they like serving on your board. What would make the experience better?
3. Make a Plan for the Future.
Discuss opportunities to further involve them with your organization. For example:
Would they like to volunteer more or in different ways?
How can they involve their friends?
What will they do to help with fundraising in the next 6 to 12 months? Would they consider giving an increased gift?
This Week's Task

Get a list of your board members. Call the first three on the list and schedule meetings with them for this week or next. Next week, do the same with the next three. Continue on down the list until you have meetings scheduled with all of your board members. Then reconnect with each of them, one on one.
What are you doing this summer to further engage your board members? Tell me about it in the comments.