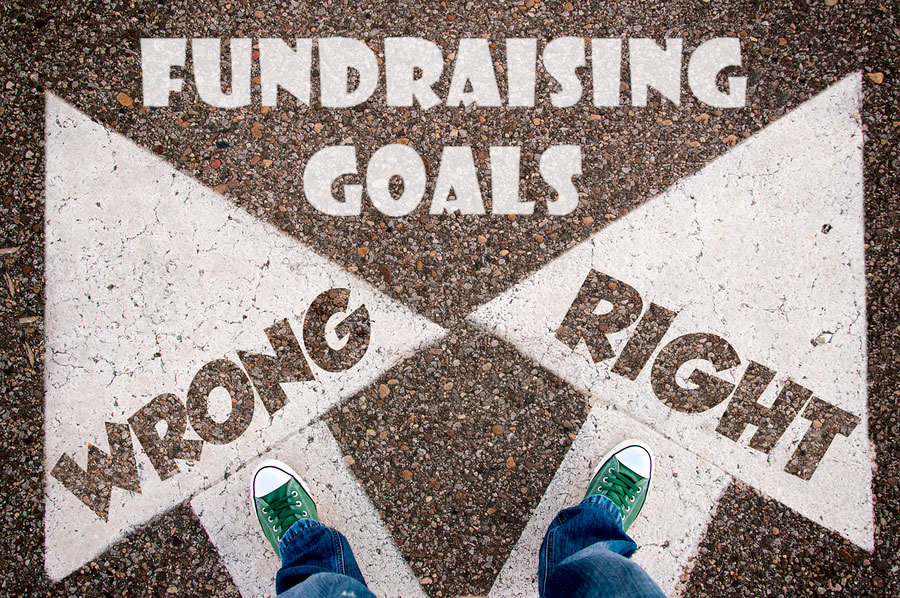 Ever had a fundraising goal "handed" to you out of the blue?
I bet you have, and you're not alone. But that doesn't make it right.
I'm sick of development directors being expected to perform miracles. And, that's generally what's happening when their fundraising goal is created without their input.
When that happens, I know their goals probably have little to do with what they can actually raise, and are more in line with the needs of the finance office.
Two Ways to NEVER Set Your Fundraising Goals
Here are the two most common ways nonprofit organizations set fundraising goals, which you should NEVER do.
1. Never set goals based on last year's income.
Although this may seem counterintuitive, you should NOT set your fundraising goal as a percent increase of last year's goal.
For example, last year we raised a million dollars, so this year we'll raise 1.2 million.
Yes, last year's fundraising income is one indicator of what you can raise, but it's certainly not the only one. Last year might have been an anomaly – large or small. Maybe you received a few large bequests or other one-time gifts, which you cannot count on again. Or, you spent last year setting up systems and are now ready to move full steam ahead.
2. Never set goals based on the hole in your budget.
"There's a hole in your budget."
Does that line make you want to break out in song?
♩ ♬ "There's a hole in your budget, dear Liza, dear Liza. There's a hole in your budget, dear Liza, a hole." ♬ ♩
(If you don't have a clue what I'm talking about, simply ignore my bad pun and continue on.) 😉
If there *IS* a hole in your budget, it means you're expecting to spend more than you're expecting to earn or raise. Yikes! That's not a good position to be in. So generally, instead of cutting expenses, the finance department simply increases the amount that the fundraiser needs to raise.
Of course, there's no reason to believe that simply because you have an operating deficit, you will be able to raise more money. One has nothing to do with the other.
Have you made those mistakes?
Too many organizations use one or even both of these methods to set their fundraising goals, but the obvious problem is that they haven't taken into account what they *CAN* actually raise.
Sound familiar?
Why are the Right Fundraising Goals so Important?
Appropriate goals help you keep your eye on the end game. They help you know when you're on track. And, most importantly, they give you something realistic to strive for.
When development directors are handed arbitrary goals (based on what they raised last year and the hole in their budget) they are less likely to meet them.
Appropriate goals serve as both a benchmark and a road map.
Goals include more than dollars raised!
Fundraising goals should not only be measured in dollars raised. Of course, that's one important indicator, but not the only one.
Donor Retention must be one of your goals.
Do you honestly know your donor retention rate, both for first time donors as well as for repeat donors?
Knowing and understanding your donor retention rate will tell you more about your fundraising program than any other goal or statistic. Can you answer the questions?
How many donors return and give again year after year?
How many first time donors make a second gift?
How many donors increased/decreased their giving?
Successful donor retention is the key to a successful fundraising program. It doesn't matter if you're acquiring new donors like gangbusters if none of them stick around to make a second gift.
So How Should You Set Your Fundraising Goals?
You'll want to set your fundraising goals based on careful and thoughtful analysis of your prospective donors and fundraising activities.
Know why your goals are what they are.
Certainly last year's fundraising income should be taken into account, but it should not be the sole determining factor. And, if you plan to increase your dollar goal above what you raised last year, you had better know why.
When determining your goals, always ask yourself…
Do you have more prospective donors?
Do you have reason to believe your current donors will give again and give larger gifts?
Do you have a stronger retention plan?
What strategy beyond "we need more money" will you use to raise more than you raised last year?
Try this Free Goal Worksheet…
This downloadable Goal Worksheet is one of dozens of transformative worksheets provided through Mastering Major Gifts, a game-changing 7-week online training course that unlocks your true major gift fundraising potential.
Mastering Major Gifts is for experienced fundraising professionals who want to get started raising major gifts in a BIG way. It's for those full-time professionals who are committed to taking their organization, and their careers, to the next level.